We have started seeing how innovative mobile apps can be. We have seen apps that help us organize our schedule, apps that create beautiful selfie images and collages, and even apps that make us put on a temporary tattoo before trying on a permanent one.
In this blog post, I would like to share a particularly interesting and useful app for seniors called the Dooinwell app. This app allows regular communication with relatives and caregivers, allows for safety check-ins and monitoring of daily pill-taking, and more.
Keep reading to find out more about the innovative app, Dooinwell.
About the Dooinwell App
How the App Works
Monitoring of Outings
Maintaining Privacy
Alerts on Safety
Subscription Plans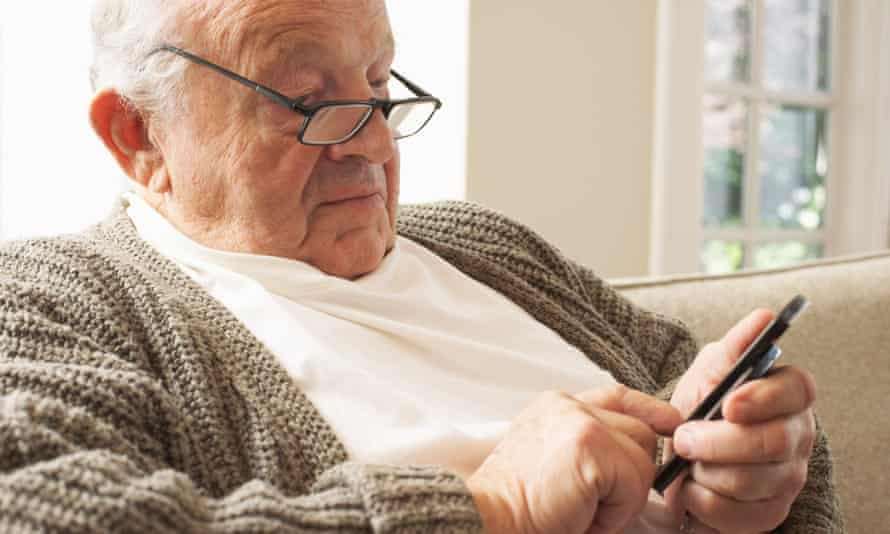 About the Dooinwell App
The Dooinwell app is an app dedicated to seniors and adults to make them safe. It lets the relatives or children of the seniors monitor their activities and helps them to worry less.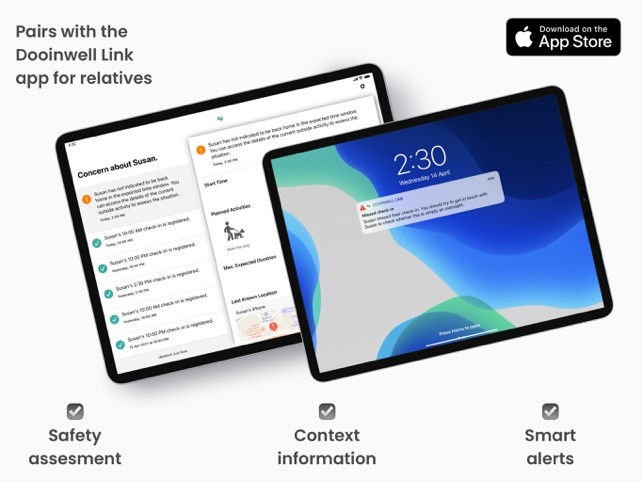 Trying to balance taking care of your elderly parents and your work hours can take a huge toll on you. The app lets you manage your activities and still have time to check up on them and get regular check-ins on how they are doing.
The better news is that it is not just a one-sided app for younger ones to check up on their seniors. The Dooinwell app is a two-sided app that allows seniors to feel safe and to be able to contact their loved ones immediately with easy steps.
How to Download
The Dooinwell app is available on the App Store for iOS users alone for now, although Android users may get to experience it soon.
To download, open the App Store and search for "Dooinwell – for older adults" in the search bar. Once you've navigated to the correct app, click 'Get' to download to your device.
The app offers in-app purchases, so be sure to confirm any requested permissions.
How the App Works
How convenient would it be to send your loved ones regular short reports about how you are at different times, and easily let them know if you have taken your medicine, or if you have had your afternoon nap.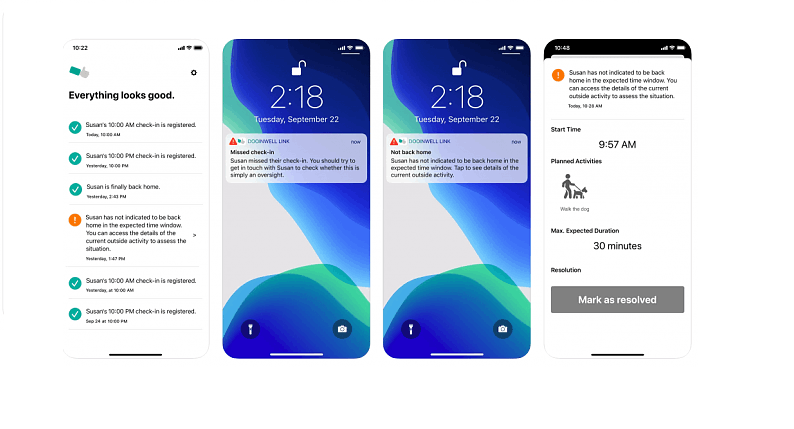 With the regular check-ins, you can send in reports at customizable time intervals, from one to four check-ins, to let them know you are fine, or if you need any help.
You also get reminders so you would not miss regular check-ins and leave anyone worried. That way, you both enjoy your day and any interruptions would only be a necessary one.
Safety with Siri
Let us face it. Not everyone enjoys checking up their mobile phone all the time, especially older generations who aren't glued to their phones all the time. The Dooingwell app had this in mind and made using the app much easier.
You can use voice commands with Siri to send check-ins when you receive reminders and use other features of the app easily. With short commands like, "Hey Siri, I'm Fine" when you have no problems, or "Hey Siri, I Need Help" to alert loved ones immediately.
Having speakers around the house is a great way to maximize this benefit so you would not have to run to the sitting room or bedroom if there was an emergency.
Monitoring of Outings
Another important time when our loved ones worry about us greatly is when we go out, whether we're going five miles from home to get coffee with a friend or going for a dental checkup.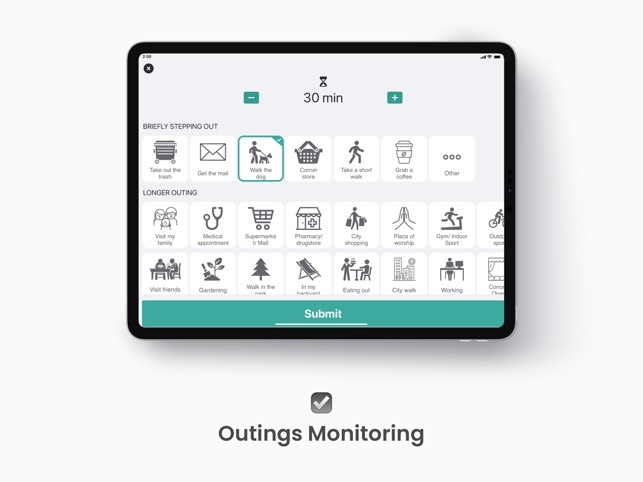 With this feature, you can let them know where you are going, how long it is expected to take while you are outdoors, and the expected time you should return home. You can select events that would not take long, and others that are expected to last longer.
When you get home safely, you can use the app to notify them that you have arrived back safely.
Kiosk Mode
Still banking on the fact that not everyone enjoys using their mobile phones all the time, the kiosk mode is an extra notification feature that gives you an extra push to comply with your loved one's wishes.
In this mode, phone triggers can include brightening up your phone screen from a dim mode to let you know that you have to give a check-in or let them know that you have returned home safely.
You also receive sound alerts when a required action is about to expire so you could meet up and not cause worry.
Maintaining Privacy
One of the best things that might interest you as a parent or elderly is that the app considers your privacy.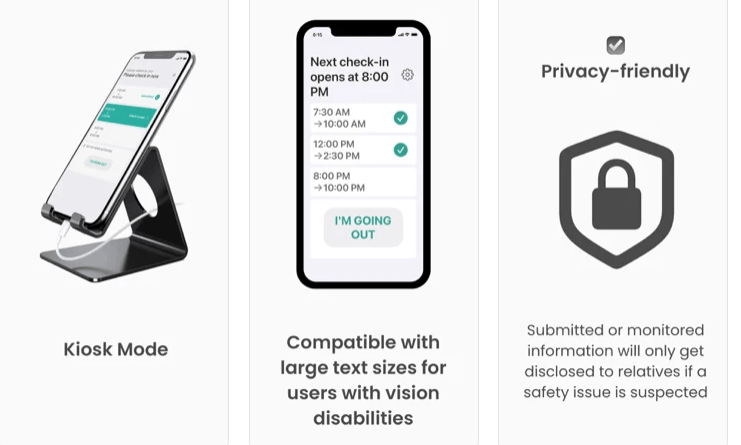 Yes, you get to share alerts with relatives and let them know if there is a problem. But, there is other information that you may provide to the app that you may not want to be shared with these relatives.
So, this information would not be disclosed to them at all. The only time such information would be released is when a safety issue is suspected, and the information you provided may help them with any issue that may arise.
Always in the Know
From the carer's side, you are always aware of what is happening with your parents or an elderly loved one, regardless of how busy you are.
With your mobile phone or other Apple devices like your Apple Watch, you get updates, check-ins, and possible worries that suit both your styles.
This lets you manage your schedule and still be able to show care and love to your elderly relative. You can also see highlights without having to go into details.
Alerts on Safety
What causes our worries most times is our parent's or elderly safety. When they send alerts that can cause worry, you can know something is wrong immediately.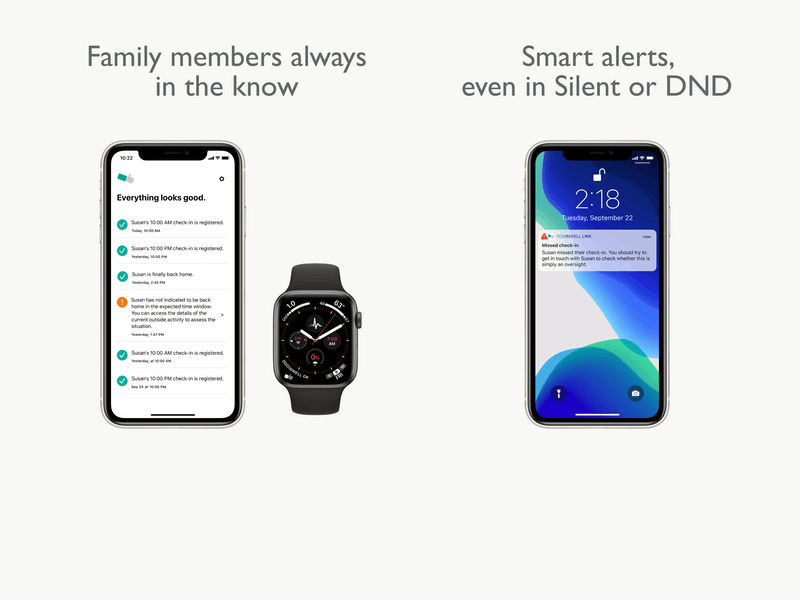 You can receive alerts on your Apple Watch, iPhones, and iPads. For critical issues, you also receive sound alerts to make you know the urgency and how needed you are.
Alerts you receive are about whether they exceed the expected time they should arrive home from outdoor activity, or if they miss a check-in, or if they request to be in touch with you.
Stay Well-Informed
In case of emergencies, you have access to more information from your parents. Such information may include the location of their outdoor event if they do not return home early.
You get the latest information and what was intended to be done that raised an alarm. A coffee with old friends should not exceed ten hours, right? You would be able to locate them and track their devices as well.
Subscription Plans
The app offers two types of subscription services. But, before I get there, it is important to state that both plans currently offer a two-month free trial for users to test their service and its reliability before opting in for a subscription package.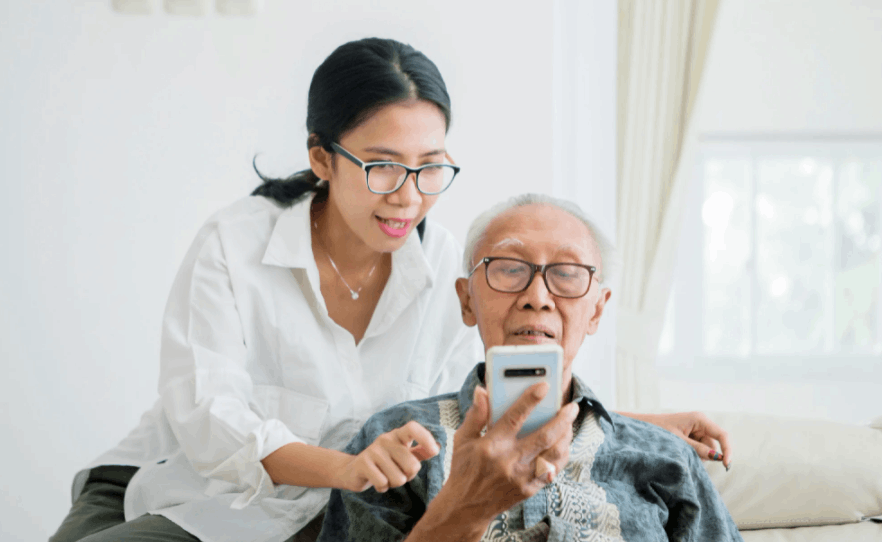 The first plan is the monthly subscription plan that goes for $6.49 and users are billed on a monthly basis.
The other is the yearly subscription plan of $52.99 which is more economical and is billed on an annual basis. Opting for the yearly plan means savings of $24.89 annually when compared to 12 months with the monthly plan structure.
The billing plan can be covered by either the relative or the older adult. For each subscription plan, the coverage includes is one adult to an unlimited number of relatives, making the safety of the senior able to be covered and cared for by all.
How to Use the App
After successful download and installation of the Dooinwell app on your iOS device, launch the application. Upon launch, you get to select which role you are in.
If you are on the elderly side of it, features and access tailored to your content and how you would be able to protect your safety and notify your loved ones would be shown.
On the other side, for the caregiver's section, the features that would allow you to keep in touch with your elderly and be well informed would be tailored to you as well. More assistance and safety concerns are answered in a detailed form on the Dooinwell website and its FAQ section.
Conclusion
It is amazing how technology makes things easier. You might wonder, why not just take the older relative in question to an elderly home? While there are several views to this, I feel that having them close and taking care of them by ourselves is the best way to give back all the support and care they have shown us while growing up.
Also, the app can be used in an elderly home, so a win-win, I guess. Still, this app and its wonderful benefits are not an emergency service. Both parties still need to play their part to ensure adult safety.