As a romance novel bookworm, I always have my nose in a book or e-reader. When I have spare time in my day, such as while commuting on the train or while waiting for my laundry, I always turn to whatever book I'm currently reading to occupy myself.
While I love print books, the abundance of interesting stories online catches my attention these days. Fortunately, I came across Dreame, a reading app and library that contains thousands of love stories.
In this article, I'm sharing my overall experience using Dreame and the features that I love about it. Read on to learn more!
Dreame - Read the Best Romance Stories
The Library Tab - Your Favorite Books in One Place
The Discover Tab - Find New Titles to Love
The Me Tab - Personalize Your Reading Experience
The Reading Experience with Dreame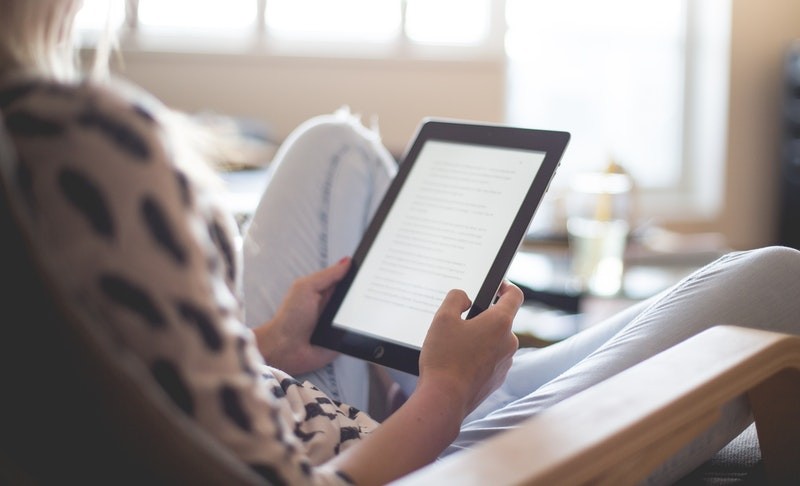 Dreame - Read the Best Romance Stories
Reading with Dreame is a unique and enjoyable experience that fosters my enthusiasm for reading. If someone told me that in the future, there'd be an app that awards me with prizes as I read, I would never have believed them.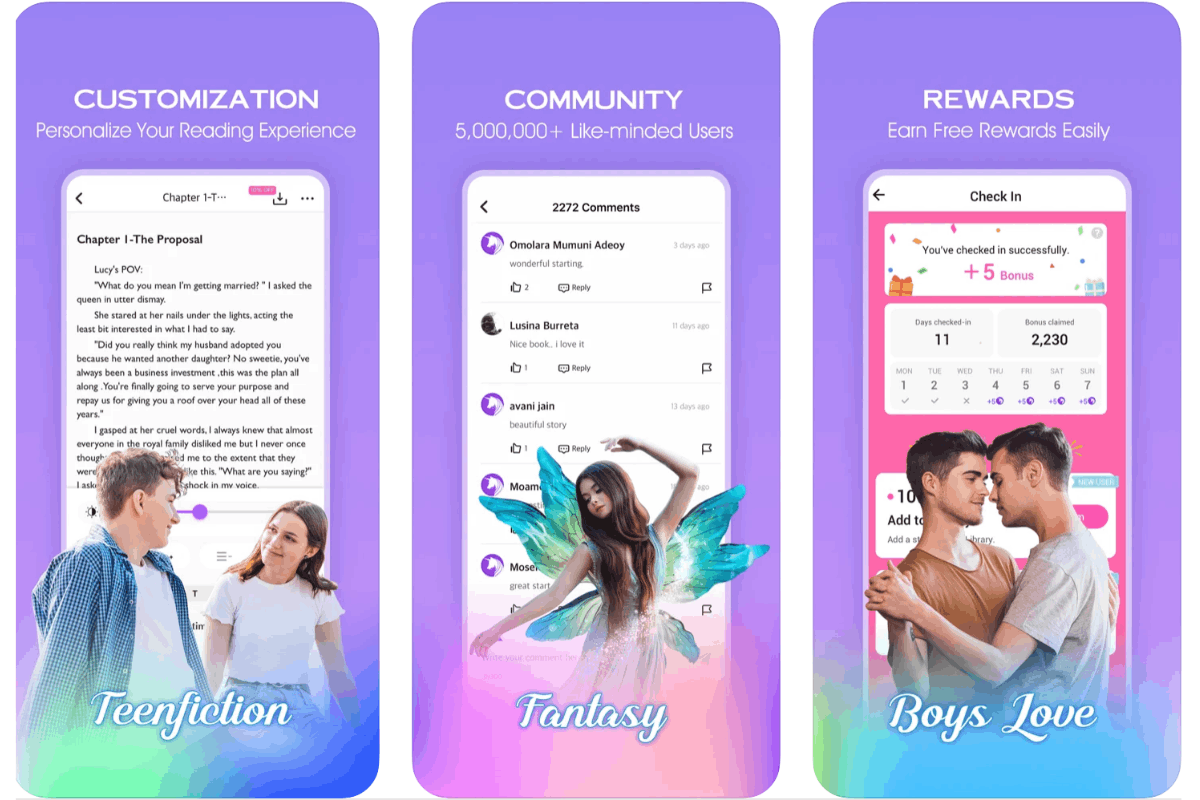 Aside from its simple and user-friendly interface, Dreame is probably the only reading library that offers cash as a prize for its users. The app also contains highly-addictive novels that keep me reading because of constant updates that come with twists and surprises.
Through the application, I was also able to meet new friends from a community of active book lovers and enthusiasts who are also users of Dreame.
Through the app's Reader Groups, I can interact with a large community of fellow reading fans and exchange thoughts, discuss books, and get recommendations.
Getting Started with Dreame
The Dreame app is available for free download on the Google Play Store and the Apple App Store. It has over 10 million downloads and a 4.3 average star rating from the users of both platforms.
After downloading the app, I was immediately directed to the Discover tab to browse different titles and books. However, the application recommended that I log in using a third-party account in order to save books and titles.
I went to the Me icon to link an account with the application. Options for logging in included email, Facebook, and Google. I chose to sign in with my Google account to get started.
The Library Tab - Your Favorite Books in One Place
The app only contains three primary tabs - Library, Discover, and Me - making it simple and easy to navigate. The first tab is the Library, represented by a heart, located at the bottom left side of the screen. The Library contains the titles I have saved, as well as some recommendations.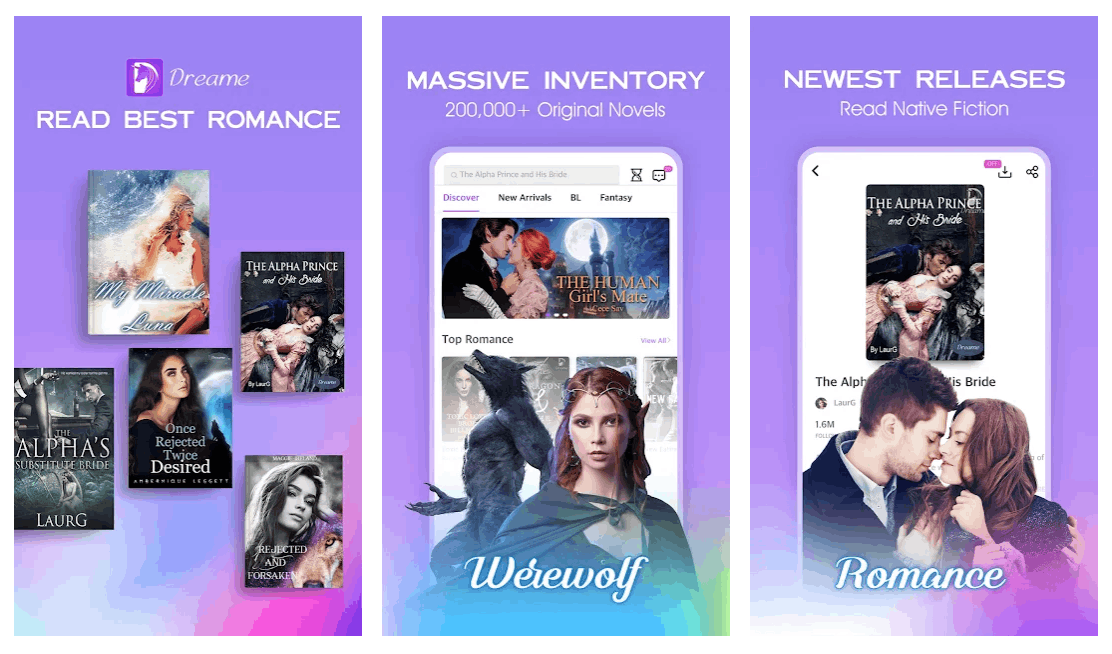 On the bottom of the screen are the three current top genres, according to readers. These top genres are updated constantly, which I appreciate because I usually like reading titles and stories from trending genres.
On the upper right part of the screen are three main icons - a green box (Rewards), an hourglass (Unlocked Episodes), and a speech bubble (Messages).
I am always excited to use this app because I get rewards and coins every time I log in. These rewards come in the form of points or bonuses, which are useful in redeeming Coins to unlock more titles and episodes found in the app.
Have Fun with Missions and the Lucky Draw
I am also motivated to read more because of the tasks and challenges listed under the Mission sections. Every time I complete a mission, I am rewarded with bonuses. Examples of challenges include reading for a certain amount of time, joining Dreame's Facebook community, or purchasing an episode.
If I have completed the task, I can press the Claim button to reap my rewards. Otherwise, my progress in completing the challenge or task shows me how far I am in completing the challenge.
Lucky Draws, on the other hand, is another fun feature that relies on luck. I can increase my points and bonuses by placing a bet, called an "investment", and then spinning the wheel. By doing this, I was able to win 100 points!
The Discover Tab - Find New Titles to Love
I love browsing the Discover tab, represented by a diamond enclosed in a circle and found beside the Library icon.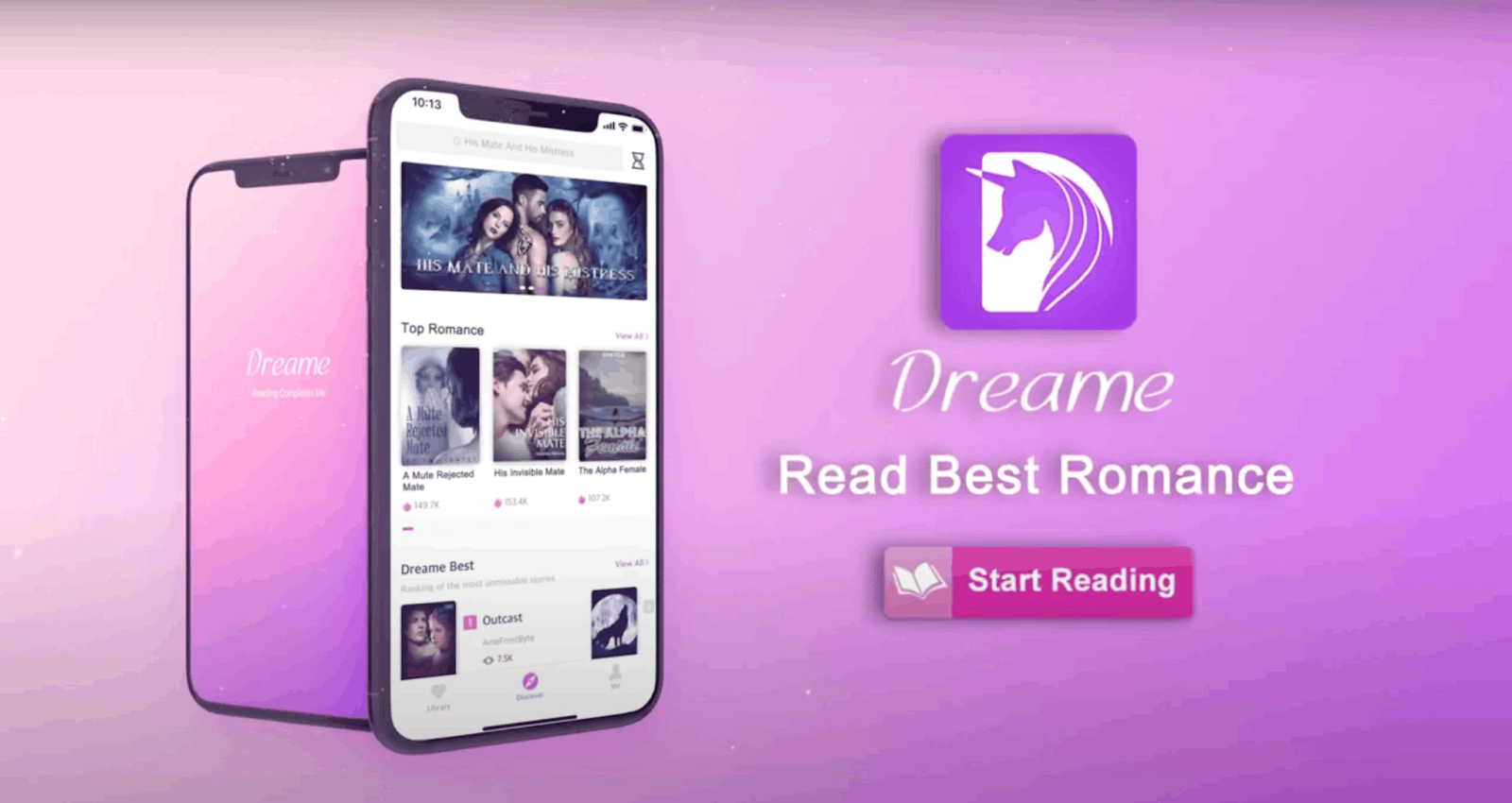 I like the Discover tab most because I have quick access to tons of recommended titles, particularly the Editor's Picks, Free For Now titles, and personalized recommendations based on my reading activity.
Titles are divided into five main categories - Comics, Exclusive, New Releases, Boy to Boy (BxB), and Fantasy. Recommendations and suggested titles are updated daily, so I never really run out of stories to read and enjoy because thousands of books are waiting for me!
Each main category has related subcategories. I usually find titles from the Exclusive category because I've found that most of the best stories I've read are from there. The best titles are listed under the Bestseller subcategory, making finding great books and stories easier.
Episodes to Unlock
Most stories in Dreame are developing stories, so I always find myself patiently waiting for new episodes and chapters from authors. Because I am reading multiple ongoing titles at any given time, you'd think it would be hard to keep track of all the various upcoming episodes.
However, Dreame's incredible Episodes to Unlock feature shows me all new and upcoming episodes I have yet to read. The Episodes to Unlock page can be found when I click on the hourglass icon in the upper right part of the screen.
This page does the job of reminding and alerting me of new episodes. All I need to do is open the app and head to this page to click on newly available episodes instead of scrolling through the Library to check for updates.
The Me Tab - Personalize Your Reading Experience
The last tab is called Me and is represented by a silhouette figure.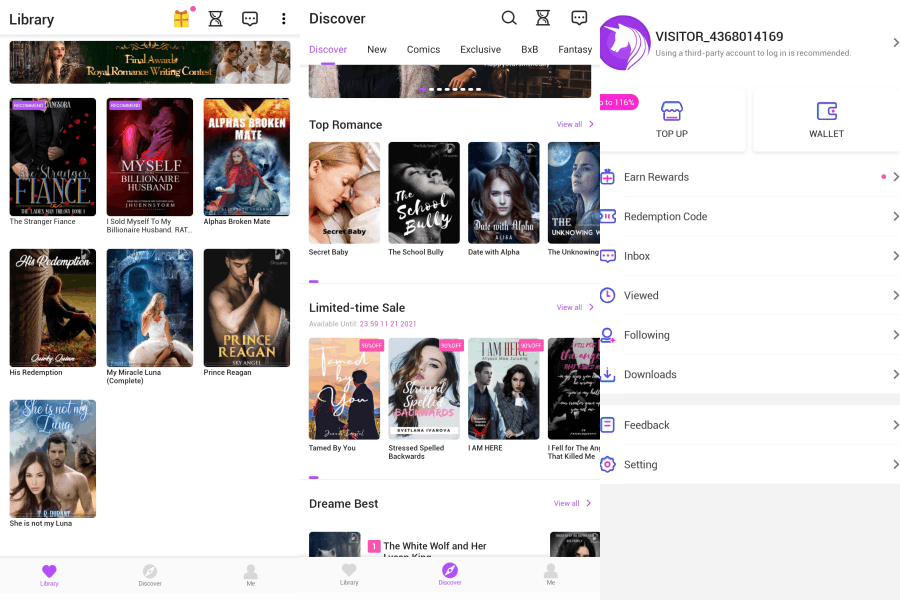 The options and settings for customizing the app are found in this tab, in addition to my inbox and my earned rewards, coupons, and redemption codes. The platform to provide feedback on the app can be found here as well.
Topping up my Coins can also be done in this section. I can buy a minimum of 40 Coins for $0.50 and up to 1,500 coins for just $15.00. Other denominations are $2.00 for 200 coins, $5.00 for 500 coins, and $10.00 for 1000 coins.
Rewards and bonuses can be redeemed for Coins, so I never miss claiming all the rewards and bonuses that the app gives every time I log in. I can also keep tabs on my Wallet under the Me tab.
Important Settings and Configurations
Some important settings that I usually customize are found under the Settings section of the Me tab. These include Notifications and Preferences to guide the app in giving me personalized recommendations.
I can also set my preferred Reading Mode, choosing from two options - Teenager and Adult. When the Teenager mode is selected, only genres and titles appropriate for readers 18 and under appear.
The Adult mode includes romance and other titles that may not be suited for younger audiences.
The Reading Experience with Dreame
Reading titles and books on Dreame is easy because of its user-friendly interface that is easy to navigate. Once I click on a book I want to read, it will redirect me to the in-app reader. The font and font size are appropriate, which makes reading comfortable for the eyes.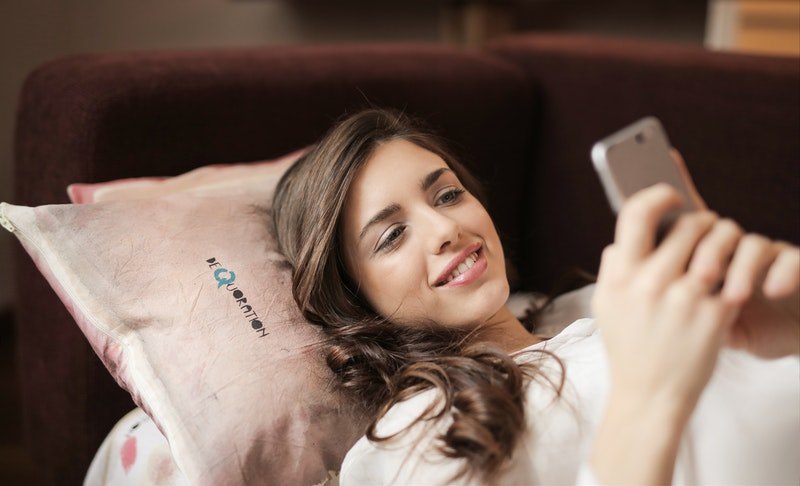 Navigating between episodes is easy since all I have to do is click on the three-line icon to see an overview of the episode numbers.
I can also customize the brightness, font size, and animation by flipping the next page. I can choose between three different font styles for the font size - Gill Sans, Optima, and Georgia. I usually use Optima because it looks cleaner and more readable.
I can also enable the Auto Scroll function and set the speed anywhere from 1 to 12, with 1 being the slowest and 12 being the fastest scrolling speed.
Avoid Eye Strain with Night Mode
One of my favorite features is the Night Mode, which adjusts the brightness and allows me to read comfortably during the night without straining my eyes.
Night Mode can be toggled on or off by pressing the moon-shaped icon found on the in-app reader.
This feature has been very helpful in taking care of my vision as I like to read at night before I go to sleep.
Conclusion
Apps such as Dreame promote the value of reading and allow people to read stories written by anyone from all over the world. The vast collection of titles is not only entertaining and enjoyable but is also a way for me to connect with other book lovers.
Reading with Dreame is not just about reading love stories. It's a journey that takes me places and an experience that allows me to understand other people's perspectives on love and romance.