Introduction: LoFi Hip Hop Radio
There's probably a moment in your life where you're struggling to focus on your homework studies or business. You decided to search up "study music" on YouTube and there's a high chance that you've come across this LoFi Hip-Hop radio. Somewhere along the way, you choose to listen to the live 24/7 version because what's better than having live music playing without the hassle of having to choose different soundtracks? You see a chat box full of users around the world complaining about their love life, their homework, and how they're procrastinating. Relatable, right? You're not alone. 
?What Is LoFi Hip Hop?
LoFi hip hop is a type of music that combines jazz elements and traditional hip hop turning sounds atmospheric. Once you start listening to it, your mind will easily sink into the soothing and calm music. ?
?How Did LoFi Hip Hop Become So Popular?
Throughout the years, lofi hip hop has become a sensation amongst mainly the college crowd. You guessed it. Study music! Many students struggle to focus and are in search of music to study. With this type of music, it's calm enough for people to work on their stuff while listening. I have to admit, I'm even listening to it while writing this blog article and every other article. ?
Surprisingly, people are even using this type of music to help them fall asleep. With such calm music, anyone with sleeping problems would play this! 
?Top Reasons Why People Listen To LoFi Hip Hop:
Relaxation ?

Study ?

Sleep ?
But what you might not know about these Lo-Fi live-streams is that they're making money and they're making it in a really smart way. The question is, how?
?How Does Lo-Fi Hip-Hop Make Money?
Without the thought of this question, you might be wondering how these channels are making money now. 
After taking some time in growing their channel, these channels now have people constantly listening to their live streams. In the blogging world, traffic equals money or potential customers. The way these channels are making money is incredible and I might even fail to cover everything they're monetizing the channel with.
From what I've found on their channels, they are monetizing (or earning money) with affiliate links and Google Adsense.  They're also doing paid promotion if you email their business email directly.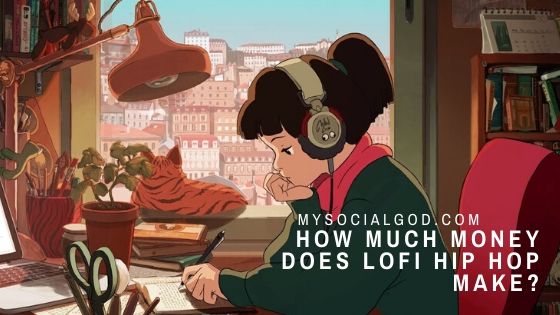 ?Monetization Method #1
On some live streams, you'll encounter ads. You're worth what Google determines you based on your search history. These channels are getting paid every time a potential customer is interested in an ad or when a person views the ad. That's right! You're earning these channels money even when you're not buying anything. Can you imagine what's it like to have thousands of people listening to these lofi hip hop radio every day? As I'm writing this article right now, ChilledCow has a total of 30,000+ listeners currently.
?Monetization Method #2
Now, if you're thinking these channels are earning great money from Google Adsense, then wait until you hear this. Having traffic anywhere is powerful and it gives anyone an advantage. There are hundreds of ways to monetize when you have traffic. As a blogger with a basic understanding of the SEO field, it's similar to what these channels do.
The second top monetization method for these live-streams is that they promote products. These are products that they think will interest the crowd. On one of these channels, I found that they were promoting their products on the description box of their YouTube live-stream. Just think for a second. How many people will see these live-streams per day and how many will click on these product links? While this type of info are hidden, it's interesting to know how many people actually convert into sales.
?Monetization Method #3
As I browsed through these channels' description boxes, I noticed that most of these channels have business emails. I did a little more research to find that they charge Lo-Fi hip hop artists money to put their songs on the live stream. This is a win-win situation for both lofi hip hop radio and lofi music producer because the channel is earning money while the artist is getting exposure for their music. While some songs are repetitive, you'll catch new songs if you're an avid listener of these channels. You'll find the song name including the name of the artist.
Whether they're promoting affiliate offers or selling their own products, it's definitely a smart way to earn passive income.
To give you an overview of what monetization methods these channels are using, it's:
Google Adsense

Affiliate Marketing

Promoting Their Own Products

Promoting Artists
??Top LoFi Hip Hop Radio Live Streamer:
Without a doubt, YouTube user ChilledCow is one of the top streamers. In a few news articles, it was reported that ChilledCow makes over $5,000 a month with a net worth of over $3,000,000. This was reported in 2018. With the rise of popularity for Lo-Fi hip hop, there's no doubt that this person is making much more now. 
The top streamers that I know of are:
These are some of the top and best lofi hip hop radio that I know of. They have some great lofi beats to chill to. One of my most recommended channels would be the College Music channel because of Shiloh.
?LoFi Hip Hop Radio Thoughts:
In the end, what these Lo-Fi hip hop radios are doing is taking advantage of opportunities. In the online world, opportunities are everywhere if you work hard enough to find them. You can earn money online from social media, website, to even starting your own live-stream music channel. The amount of money they're making isn't easily revealed but it's easy to agree that they're living a much better life. Not only that, but they're helping improve a great number of peoples' lives around the world through their influence of lofi hip hop radio.
The vast amount of opportunities they have to monetize their traffic, the networking they have, being able to promote upcoming artists, and the influence they have on people that are struggling to focus. That's something to be proud of. All it took was an idea, hard work, dedication, and a vision. ??
This method of making money was included in the article: