I'm always concerned about the hairstyle I'll get at my next salon session and whether it will suit me. Fashion and appearance, especially one's hairstyle, are unquestionably important in today's world. I'm delighted that app developers understood their assignment and began to innovate in this area as well.
Hairstyling apps are all the rage right now, and they're wildly popular with people of all ages. I use apps that superimpose my face with a hairstyle template embedded while I'm seeking a haircut that suits me. Continue reading to learn more about the most downloaded apps to simulate haircuts.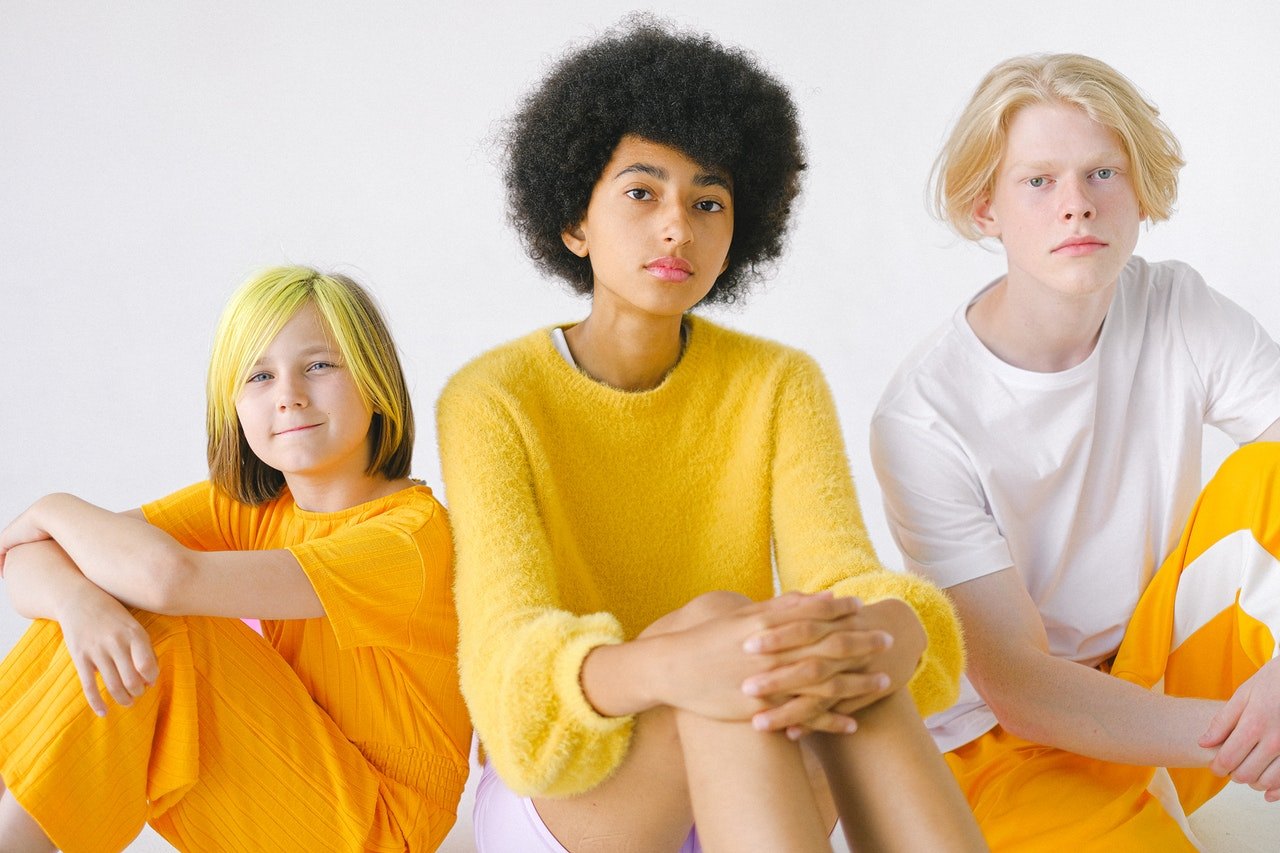 Magic Mirror by Touch Multimedia
Magic Mirror, as its names imply, is an application that perfectly meets my demands as a hairstyle enthusiast. I can capture my wishlist hairstyles and share them with family and friends. Although the UI isn't the most up-to-date, it serves over 30 different hairstyles and makeover looks.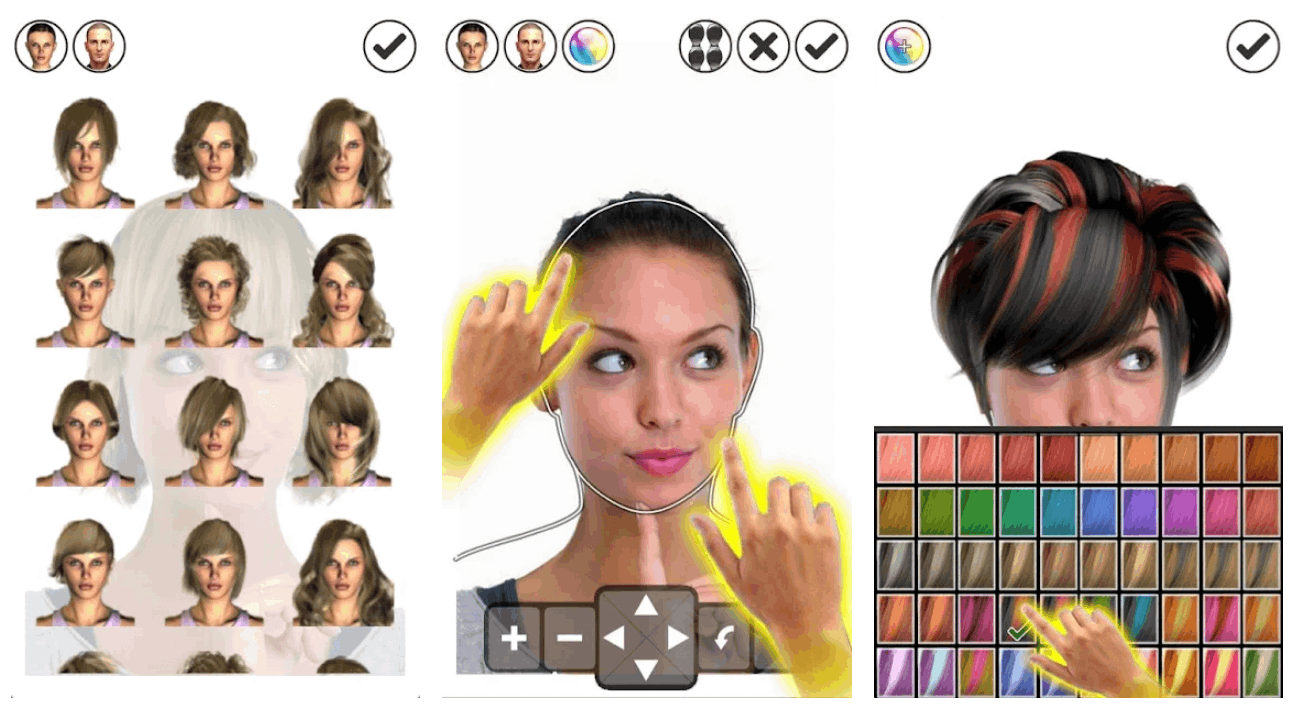 From mohawks to ponytails, I can find haircuts that fit my personality in various genres. Although the demo version is quite simple, the professional version includes powerful face identification technology and a large number of makeover options. In the full version of the app, I can also select images from my phone gallery and upload them.
Both men and women can choose from a range of hairstyles, and the updates include new makeovers and hairdo simulations. All I have to do now is find the ideal match for my personality!
Hairstyles by Kaufcom
I can check out how I would appear with different haircuts before going to the hairdresser thanks to this wonderful app called Hairstyles. The app has been quite helpful in coming up with a few new ideas for my next appointment with the hairdresser.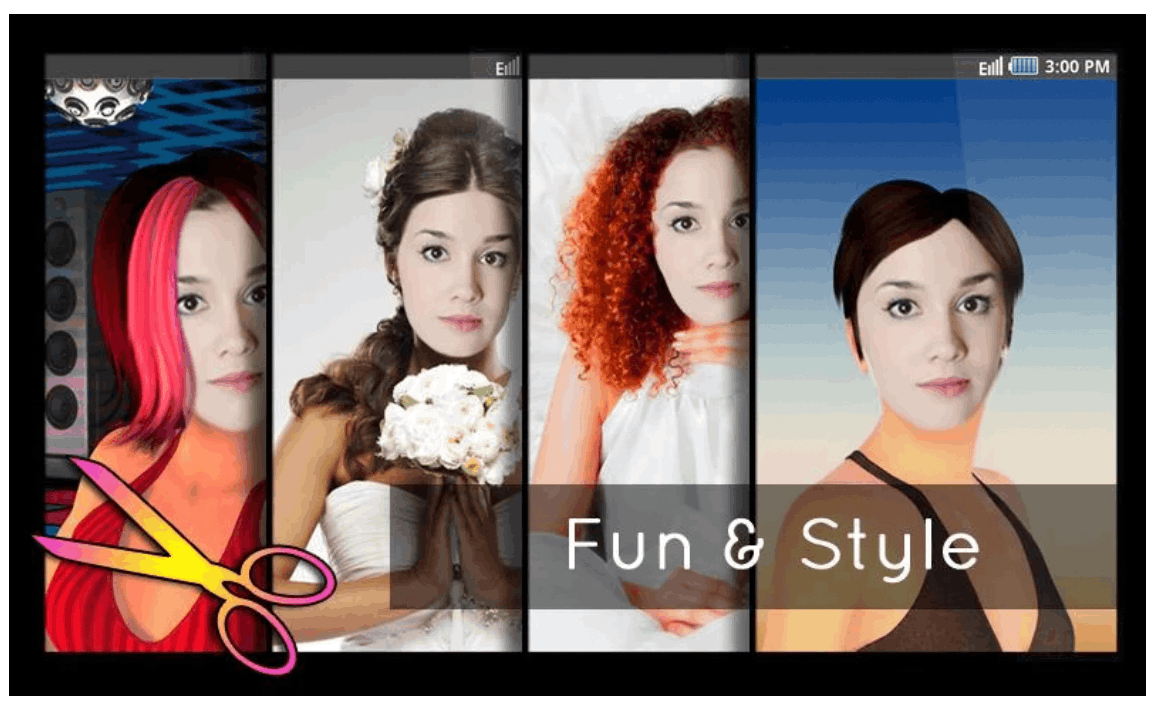 I just snap a photo of myself or a friend and select from various unique haircuts and hair colors. Long, short, party, punk, curly, frizzy, and even bridal hairstyles are all options to consider. On some periwigs, I may also choose from various colors, including black, brown, red, green, blond, and many others.
I can also add adorable accessories to my photos, such as a lovely hat, a strange wig, nice sunglasses, or a noble crown. I can also add fun stickers to my pictures, such as a nice heart, a diamond, a small rose, or speech bubbles to express myself.
Hairstyle Makeover by Appdicted
Hairstyle Makeover describes itself as the Apple App Store's most user-friendly hairstyle app. They only use real hairstyles that they have professionally edited, so they seem authentic when I try them on.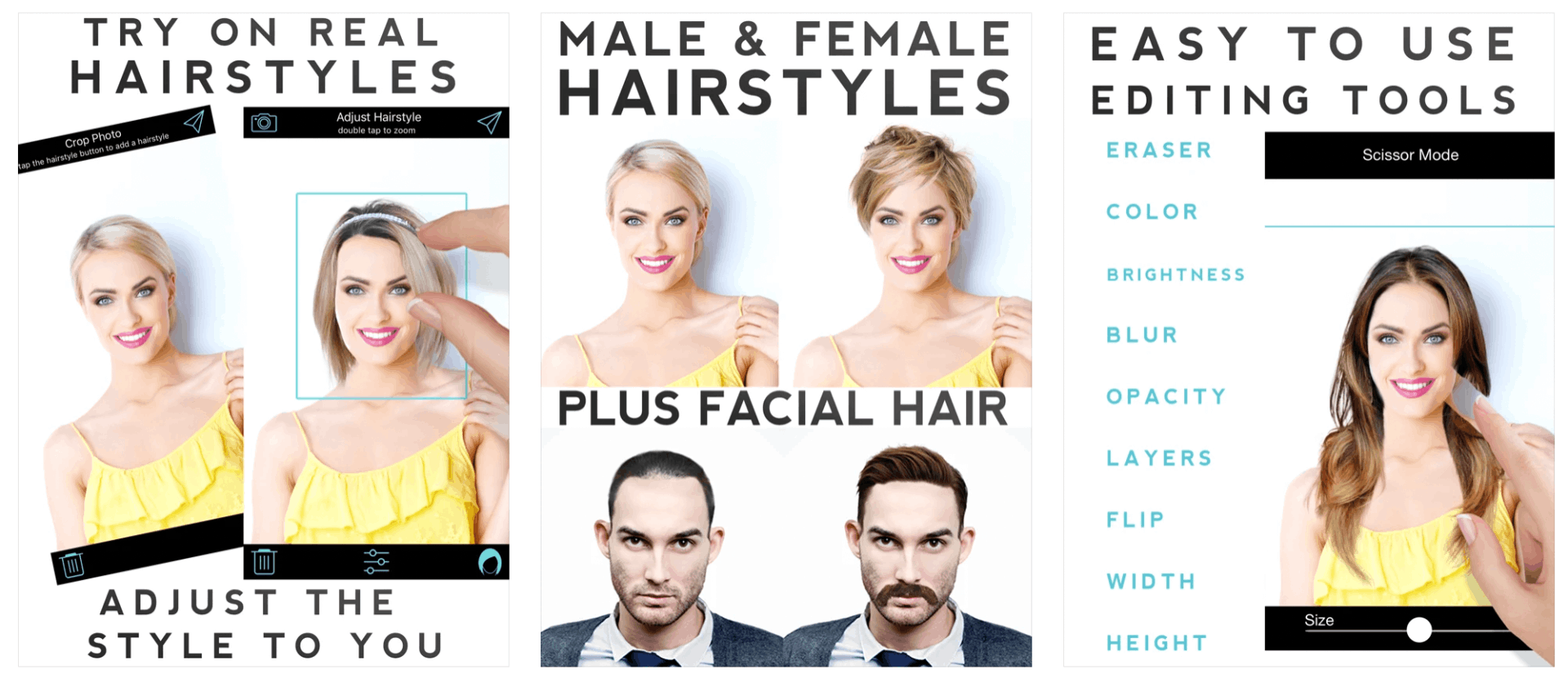 I can use my camera, a photo from my photo album, or one of their sample models. Each hairstyle has five sample styles, and there is also a variety of crazy and amusing wigs. All I have to do now is match the hairstyles to my photo within the user-friendly interface.
Because the hair appears natural, I can obtain honest feedback from my friends, family, and even my hairdresser. I may purchase in-app access to hundreds of high-quality haircuts, beards, and mustaches that were expertly edited from real images.
Hair Salon by YovoGames
This application has made me feel like I am the fashion world's queen. Hair Salon is overflowing with makeover, hairstyle, and other styling recommendations with a real-time simulation of looks. It also offers a fun and dynamic UI that appeals to all age groups.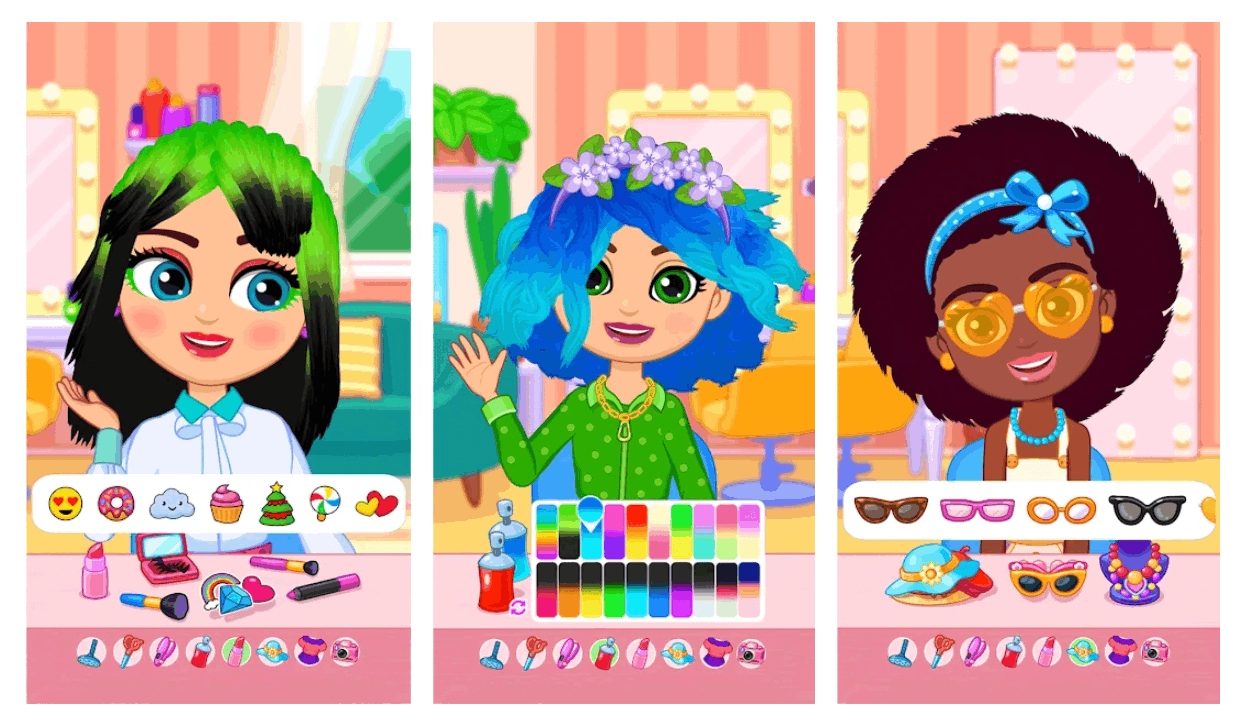 I use this application to get hairstyle ideas. Blow-dried, straightened, curled, permed, and other options are available. This app is more like a game, where I have to style or makeover my characters.
They need my professional ideas, and they reward me with bonuses based on my output. This is an educational styling game for kids, but it's also pretty popular among adults! This app is one of the most popular casual genre apps in the Google Play Store, with more than 100,000 downloads.
Hairstyle Try On by KBMSoft ApS
Hairstyle Try On, which is only available for Apple users, offers a selection of hairstyle packages divided into several categories. The application produces high-quality results, as seen by the many downloads it has received.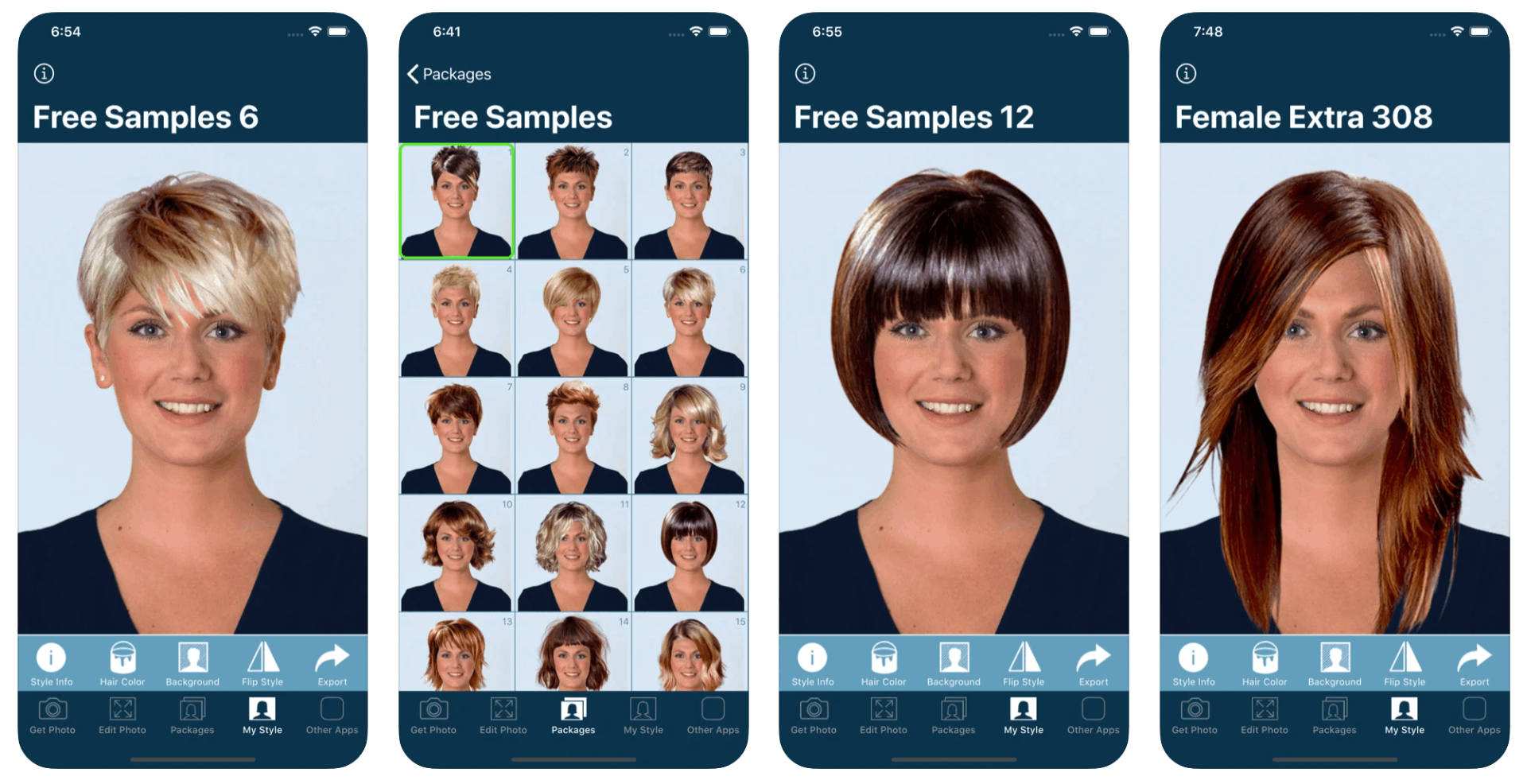 There are over 15 hairstyle ideas and 500+ styling suggestions available. They're all divided into different categories to make it easier for users to find what they're looking for. I swiftly mimic the desired look on my face and assess how well it would complement my overall appearance.
The feedback on the app has also been positive. Because this is a Lite edition, memory consumption is not a consideration. The application's appearance and feel are simple, allowing users of all ages to use it effectively.
Hairstyle Changer by MettleTech
I use this app to find the cutest and most perfect look for my face. This app features a variety of virtual hairstyles that use my front camera to capture my face with the chosen hairstyle. While applications like this may not always produce the best results, they provide an excellent sketch of what the looks can be.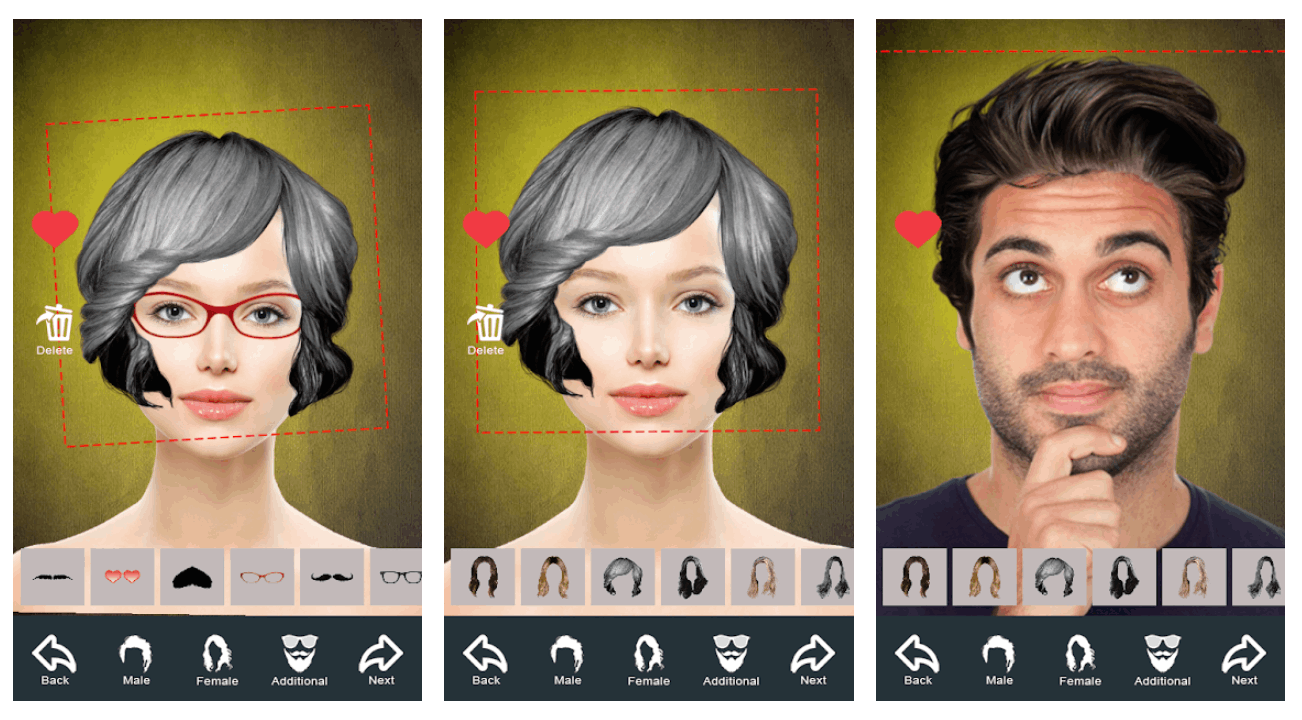 The hairstyles are gender-specific, although they are available for both girls and boys and elderly adults. All I have to do now is pick the one that best matches the shape of my face, my features, and my general appearance.
Beards and mustache styles have also become popular due to the recent updates. There are a variety of hairstyles available, including brunette, blonde, and golden brown tones.
Cute Girls Hairstyles
With its simple goal, the Cute Girls Hairstyles app can work great and help me choose the best hairdo before my next hair salon appointment. This app, which uses very little data on my phone, is one of the most amazing makeover and hairstyle applications.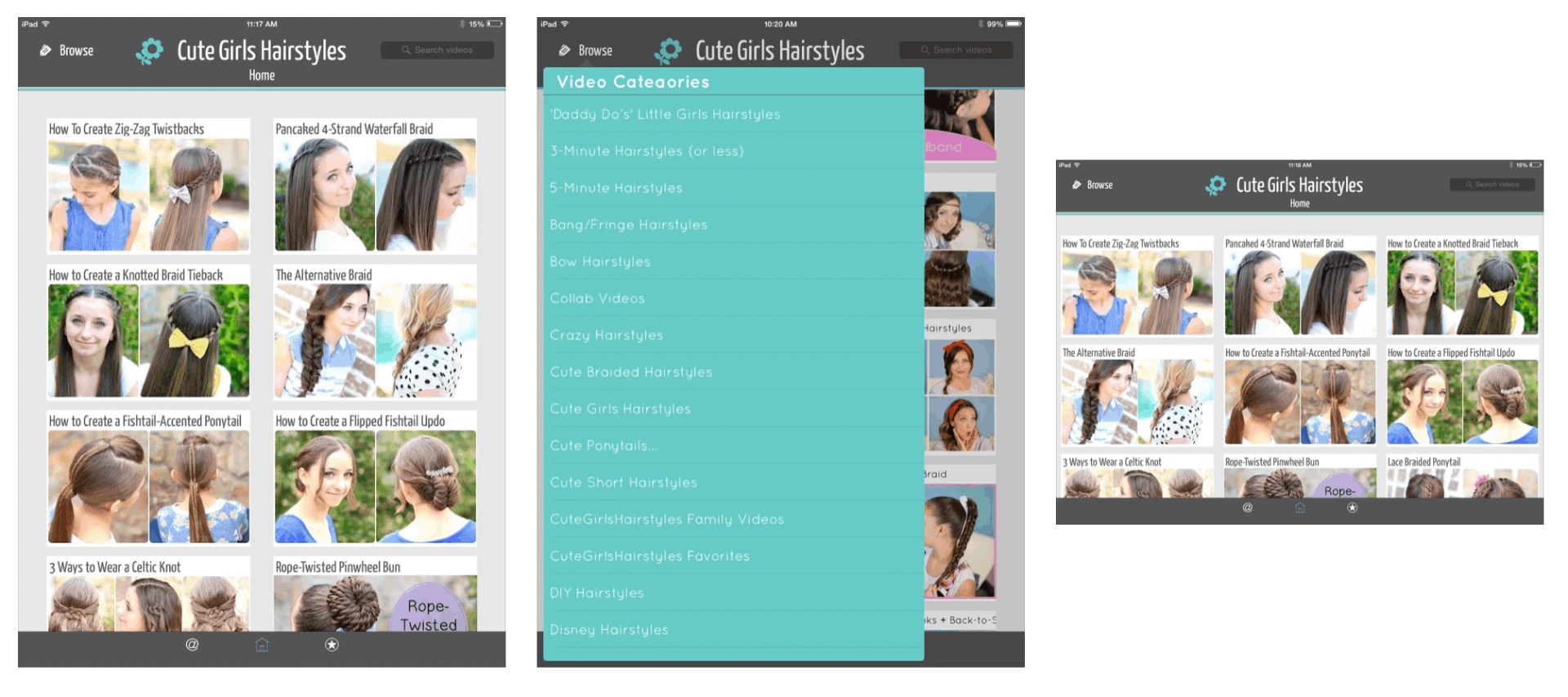 I have 50+ hair-braiding or styling tips to select from in several categories. Users can choose from brunette, blonde, small-girl hairstyles, American hairstyles, and more. On the other hand, the application is mostly geared toward women, and men may find it uninteresting.
It provides bookmarking capabilities for images that I want to revisit later. The cropping, zooming, and editing options are quite helpful in determining whether or not the haircut is suitable for me.
BeautyPlus
BeautyPlusis certainly an interesting one for an idea about a specific style, with tons of makeover advice and ideas. It also contains a variety of hairstyle suggestions for various age groups, face shapes, and ethnicities. I simply select the option that best suits my mindset and personality.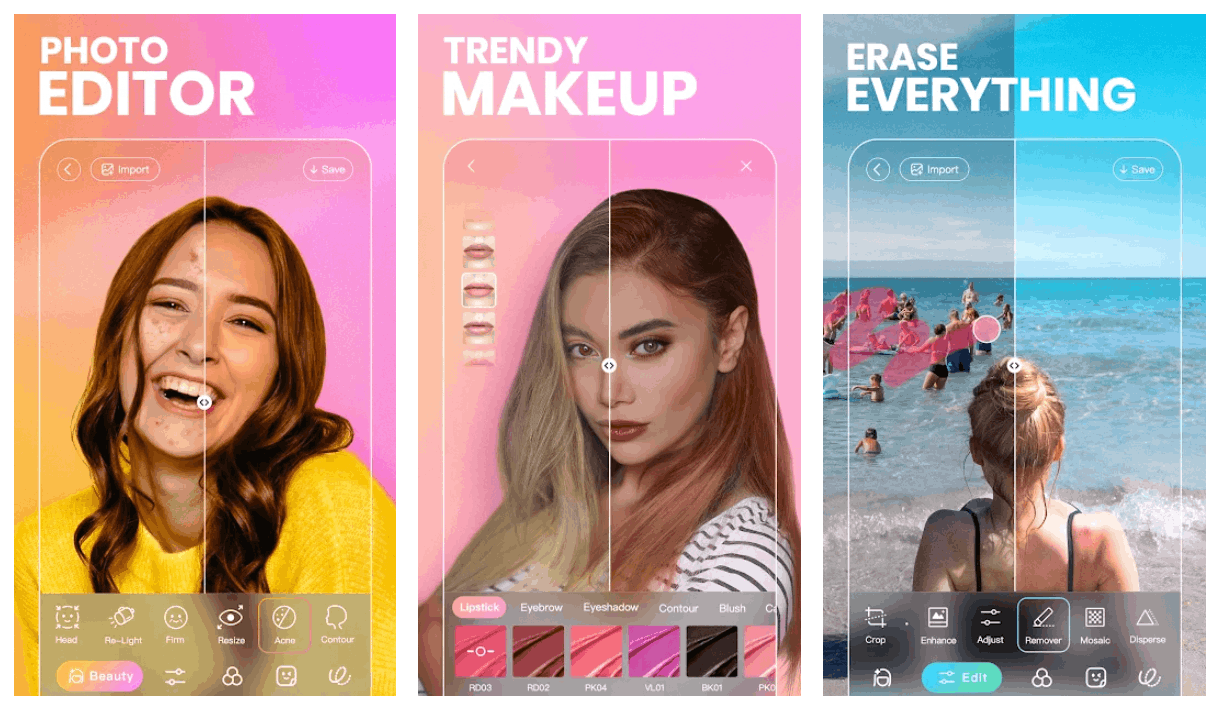 This app has always been at the forefront of the fashion and lifestyle genre of apps. A pimple eraser, hair colorizer, and other functions are available for a terrific makeover. I may also pick images from my collection and enhance them using the available post-editing tools.
You can get it for free on both iOS and Android devices. The app is extremely popular worldwide, with thousands of downloads and positive reviews. The popularity of recent updates has waned, but application improvements and bug fixes are expected to resurface.
Perfect 365: One-Tap Makeover
This app for virtual makeup, hairstyles, and fashion is now the most popular in the Google Play Storeand the Apple App Store. By using my front camera and modeling a look, I can test more than 30 hairstyles, 20 makeup fads, and a range of other looks.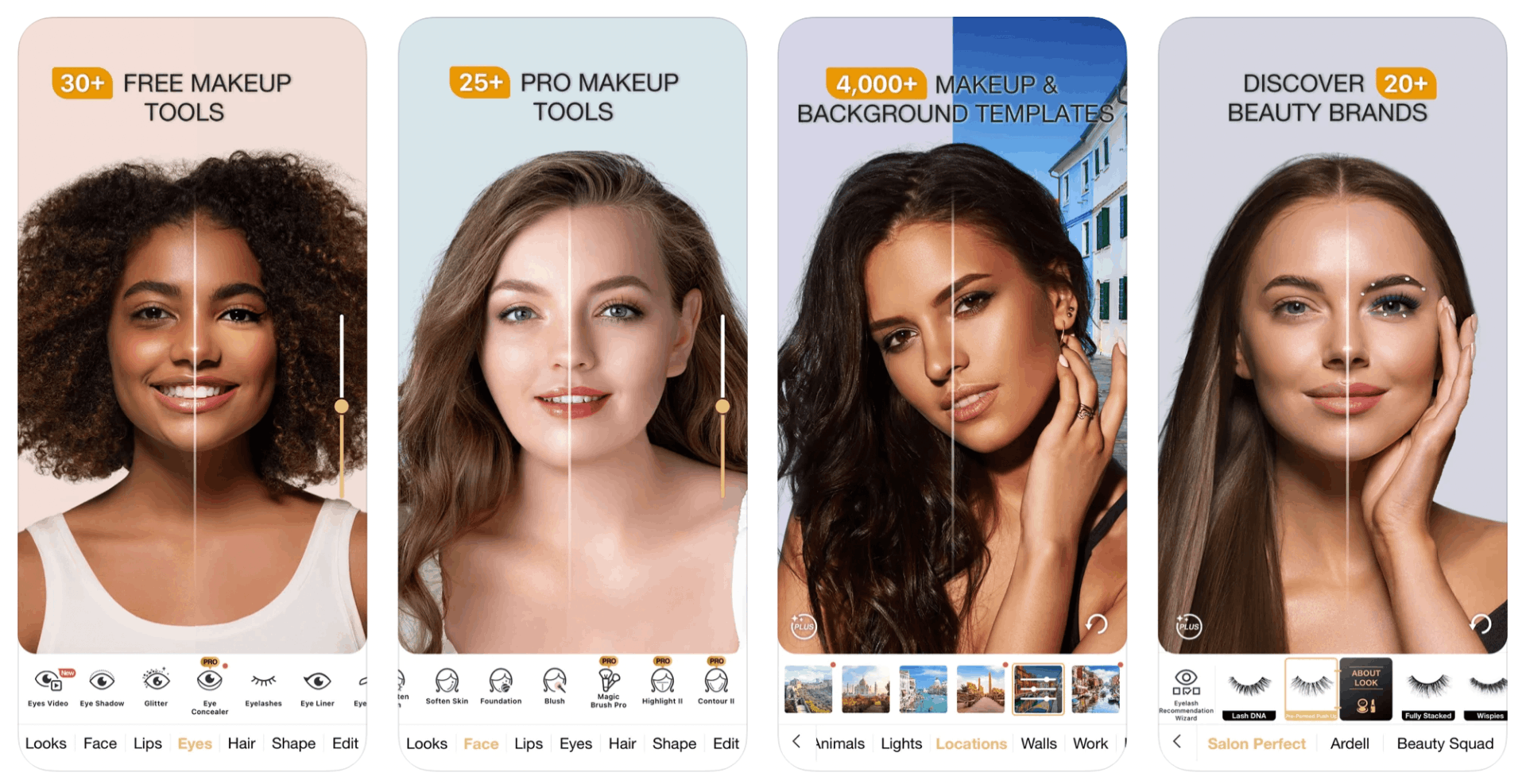 This app, which offers makeup and hairstyle tutorials by notable artists, has also been endorsed by media portals. Some changes are made to match Red Carpet appearances, and each update adds new and intriguing features to the frame.
I can rotate my look around my face, and the images taken are always in high definition. Thanks to some fantastic color palette features, the app gives me some great capabilities for simple touch-ups and an idea for my professional salon about a makeup outline. I can even save and share those looks on social networking sites later.
Beautylish
Through Beautylish, which is more akin to a Wikipedia of the styling world, I study the fundamentals of a makeover and hairstyling. This is where salon professionals and stylists respond to people's makeover and grooming questions.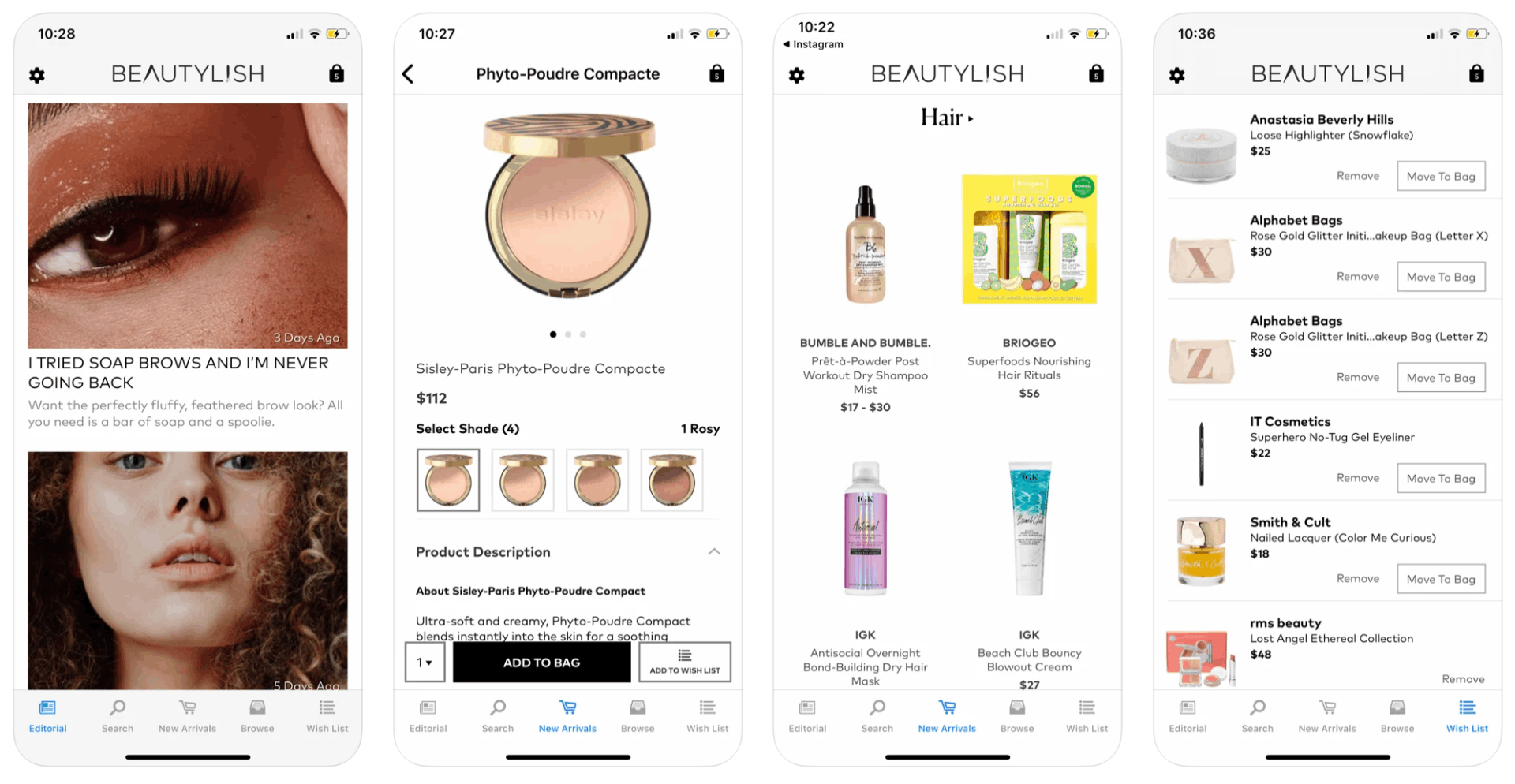 Regardless of the style I pick, the application has a ready response to my needs. This application is rather interactive and appropriate for both younger and older users. The content is not limited to a single genre but is quite diversified.
The user interface is outstanding and vibrant, making it simple for non-technical individuals to learn the techniques. The application has received positive feedback and high ratings, making it one of the most well-known in the category.
Conclusion
These applications' features are interactive and helpful so that they are popular among users. Keep in mind that you have no limitations when trying out a new hairstyle on yourself—it can be whatever you want it to be.
Try it out using the apps above to see if you really like whatever hairstyle you have in mind!