You might've stumbled across Quora before on the search engine, but what is Quora used for? In this article, you will find out what Quora is used for and the 3 things you need to know. You will know in a moment why this is becoming one America's leading platform.
Before moving forward into the article, be sure to check out:
200+ Ways To Make Money Online
Facts About Snapchat You Didn't Know with GIFS
What is Quora Used For?
Well, to start simple, Quora is a question-and-answer platform where users exchange knowledge around the world. This platform is more popular in America than anywhere else. Founded in 2009, the number of users since then grew at an exponential rate at 300 million monthly active members.
When I was using the internet 5-6 years ago, I had no clue or zero knowledge about this platform. Who would've known that such a platform would outrank all the other ask-and-answer platforms? With tons of active members using Quora, it shows that they have achieved greatly throughout the years and it seems like they will continue to grow.
Who Founded Quora?
Most likely that you didn't know, but Quora was founded by a few employees from one of the most notable social media platforms, Facebook. Employees from Facebook, Charlie Cheever, and Adam D'Angelo came up with the name Quora by creating a list of random names and ideas. They went through it with their friends eliminating all the names they didn't like and ended up with Quora. They were close between Quiver or Quora. I'm glad it was Quora. When it comes to creating a name for your brand, it's the most difficult, time-consuming situation that you'll endure.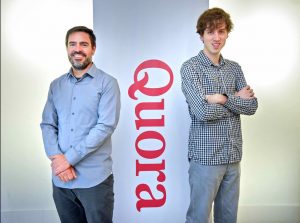 What Was Quora's User-Base Like From 2018-2019?
Around the end of 2018, Quora reported that the company was receiving at least 300 million unique visitors per month. That's an astounding number!  Even with the high number of registered members, Quora's cultural mainstream wasn't as dominant compare to platforms like Twitter. The fact could be that they weren't used as often as compared to Twitter.
Towards the end of December 2018, Quora had unfortunate news for its users. Approximately, at least a hundred million user accounts were affected by what's known as a data breach. Because of the data breach,  the hackers had access to users' email, usernames, passwords, and even information from social media like Twitter and Facebook. This was a serious concern for many users.
What is Quora's Company Value?
Nearly halfway through 2019, Quora was reported to be valued at over $2 billion. Such an impressive number for a company that was started a decade ago from the report. Aside from its value, Quora receives very little revenue on its platform. They don't as many ads compared to other social media companies.
With several large investors, some investors didn't believe in the future of Quora. Everyone has different views on this platform. As a blogger, my opinions won't mean as much but I believe that Quora still has a lot of room to grow and will continue moving forward.
What is Quora's Real Name Policy?
I have to admit, I was one of the users that didn't fully read the terms of service. I used my brand name instead and my account was frozen until I changed it into my actual name. Quora has this policy where they require all users to sign up with the actual form of their real name.
Usually, they won't ask you for verification but having fake names will most likely be reported by the community. If you're afraid of people knowing who you are, you have the option to post your answers anonymously.
With all the other information on your bio, you have the option to keep your profile private.
What is Quora used for? If you haven't heard, Quora invites random users to participate in their partner program. If you're one of them, congrats! With the Quora partner program, users can ask questions and get rewarded with real money for asking unique questions. Your pay depends on how many people view the ads next to your question.
Some new users got invited as well as veterans. There's no requirement and the invitation is all random. There have been cases of people earning a full-time income from asking questions on Quora.
Unfortunately, I wasn't invited but am waiting for the day they invite me. I'm willing to test out this money-making method and see how much I can earn. Make sure to check your spam box just in case! People have found their invitation in their spam box, so don't miss out on this precious opportunity!
Here Are 3 Tips When Using Quora:
Make sure your information is as accurate as possible. Quora will freeze your account if you use fake information. The team and community are really against people using fake information and it will make you look unreliable when answering questions.
When answering a question, make sure to do keyword research if you want your answers to be seen. Quora happens to rank quicker than other platforms on Google search so your answer will more than likely appear at the top if you answer a question with full-on keyword research.
When writing a Quora answer, users want quality content. Answering questions just to answer won't help you rank. Also answering new questions will give your answer more exposure. Don't answer half-ass answers!
What Do I Think of This Article: "What is Quora Used For?
Overall, I think Quora is a very valuable platform. Whenever I require an answer for something on Google search, I would insert Quora followed by the question I'm asking. The community seems to answer my questions very in-depth and I'm grateful for that. I think Quora has a great future and will continue to grow and expand.
Thanks for reading: "What is Quora Used For? 3 Things You Need To Know!" Other related articles that you might enjoy:
200+ Ways To Make Money Online