Our mobile phones have become an integral part of our daily lives, from serving as an alarm clock to providing directions when we drive to new places. Personally, I don't know if I can last a few days without my trusted mobile phone.
Because my phone is very important to me, I realized that it should have at least some sort of protection against viruses. With all the personal information that I store on my device, it would be a huge hassle if it suddenly broke down or got hacked. So I did some research and came up with a list of the best apps to check and protect my phone from viruses.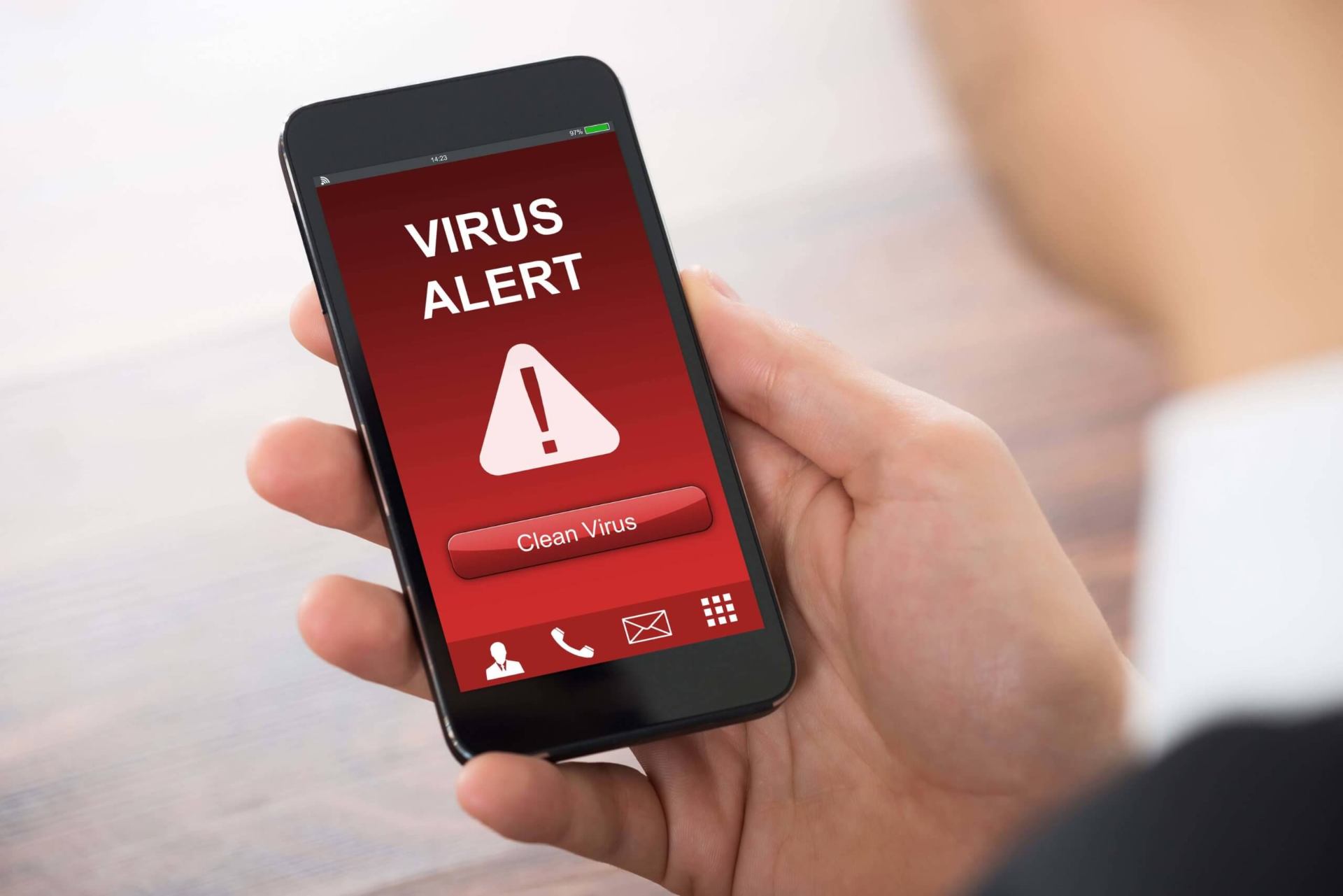 Bitdefender Mobile Security
Since 2001, Bitdefender has been in the business of cybersecurity, detecting threats, protecting data and privacy, and eliminating malware and viruses for all types of devices. The app also provides a secure VPN so I can browse with complete online privacy.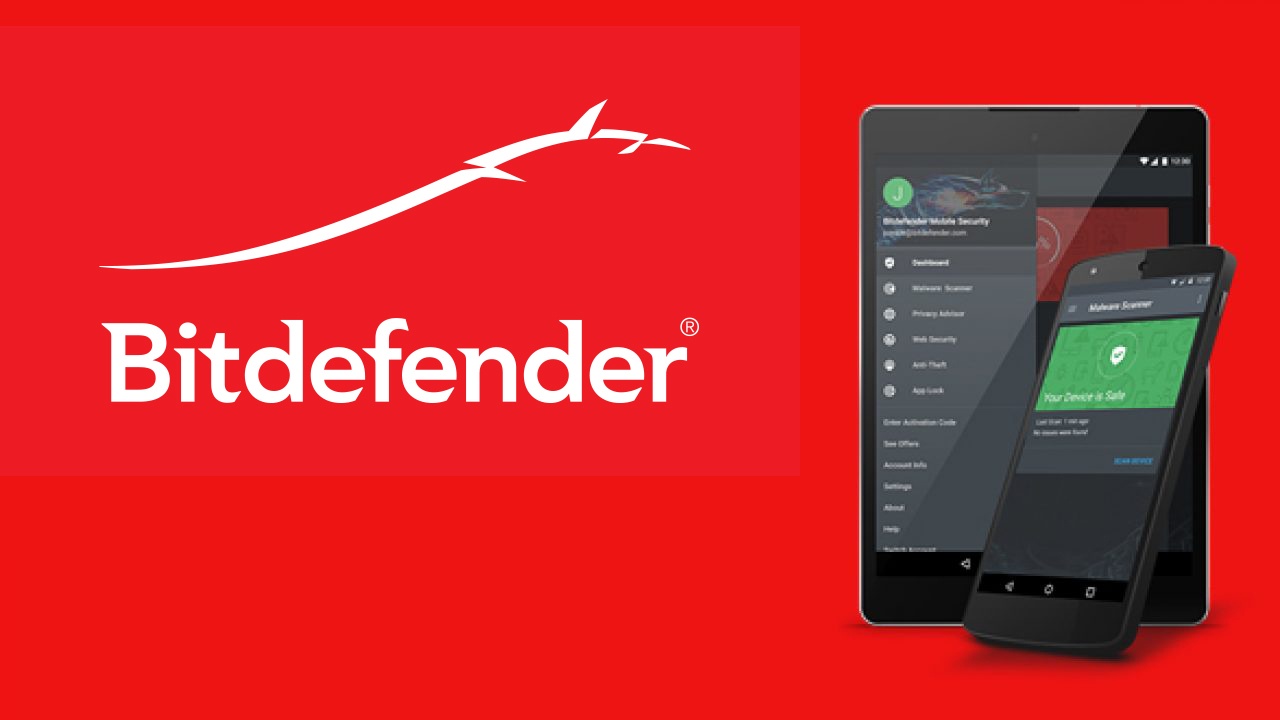 It has a short scanning time, scanning my phone in less than 10 seconds even with apps running in the background. It also offers protection from theft with its Anti-Theft features that include remote locating, remote locking, and remote wiping of the contents of your phone.
Bitdefender Mobile Security is available on both the Google Play Store and the Apple App Store. The basic version of the app is free to download and use but after the 14-day trial, features such as Web protection and App Advisor will become inaccessible. The premium version costs $1.49 per month or $14.95 annually.
Avira Antivirus Mobile App
Another antivirus app I found that's available to both Android and iOS users is the Avira Antivirus mobile app. The Android version is capable of blocking all malware applications from running on your phone as well as detecting and removing any system viruses that are currently installed on your device. It can also prevent other apps from accessing my phone's mic and camera.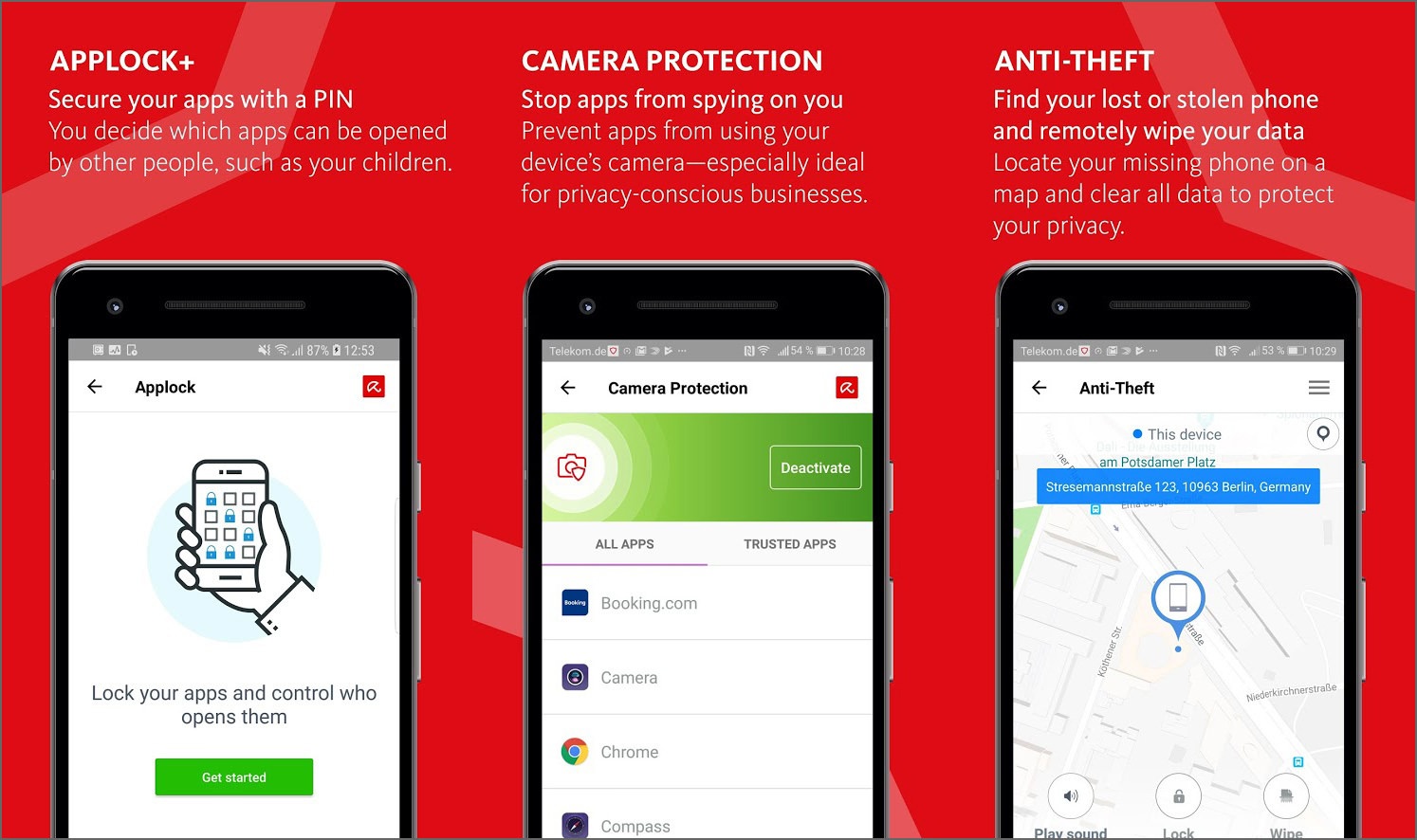 Meanwhile, the iOS version of the app allows you to prevent Siri commands from being logged onto Apple's servers and to block malicious websites from attempting to steal your personal information. I also learned that the app will notify me if my online account credentials become part of a data breach.
You can find the iOS version of the app under Avira Mobile Security in the Apple App Store and the Android app under Avira Antivirus 2021 – Virus Cleaner & VPN in the Google Play Store. While the app is free to download, there are in-app purchases to access the different features, ranging from $5.49 to $34.99.
Kaspersky Mobile Antivirus
Kaspersky has been a household name in cybersecurity for decades now. It is a free app but you have to subscribe to a premium service for extra features. You can download the app on the Google Play Store. What's impressive about Kaspersky is that it gives more than just the basic antivirus features to free app users.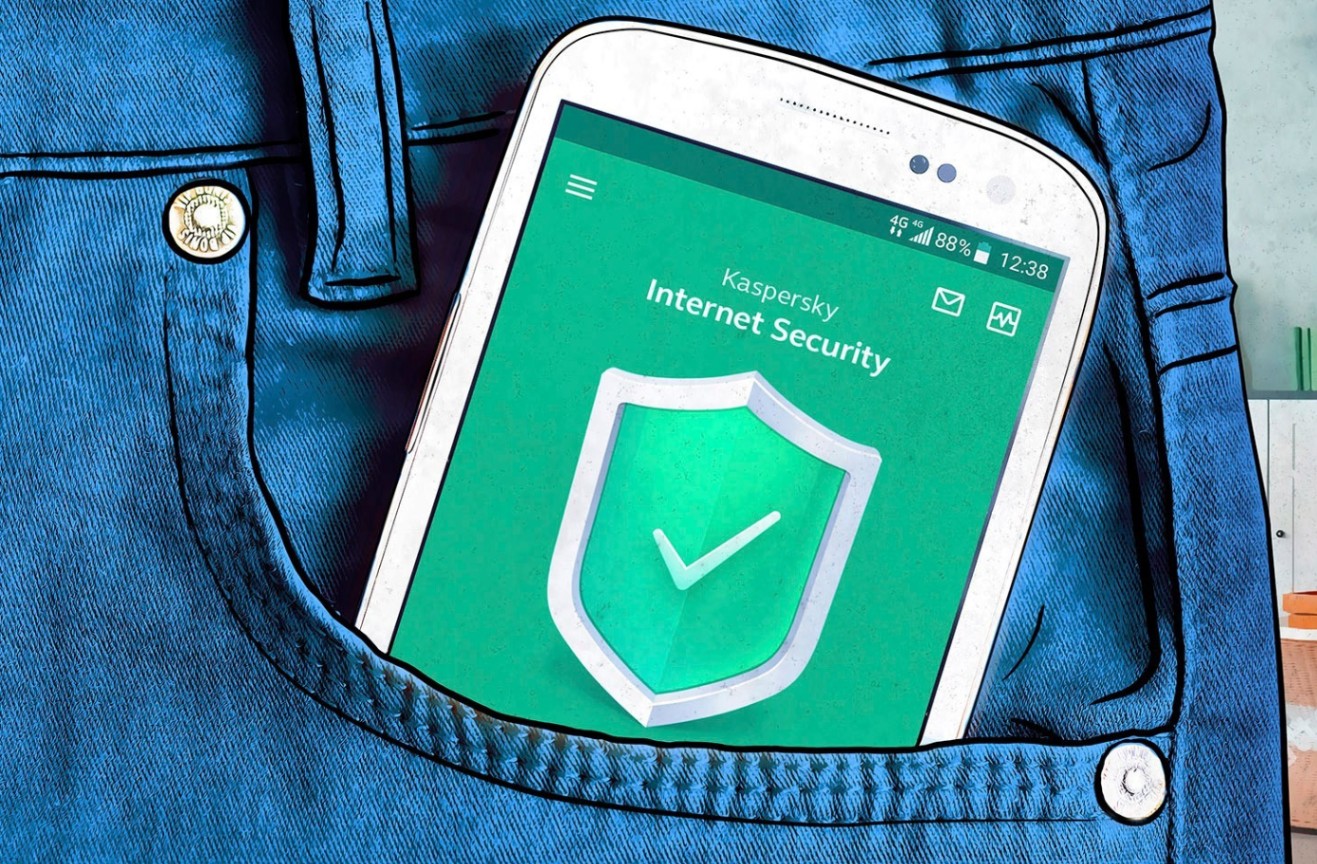 The free version not only allows me to scan my device for threats and provides protection against them, but it also includes the Anti-Theft feature for remotely locking, locating, and wiping devices that are missing or stolen. It also has a Call Filter to block spam calls and an Anti-Stalkerware that detects and warns against apps that could potentially spy on you.
At a yearly subscription of $149.99, the Premium version of the app gives my phone additional security through automatic malware scans, warnings against phishing links in texts, emails, and on websites. It also has an App Lock feature that allows me to place PIN security on certain apps, including calls and text messages.
ESET Mobile Security
Since I have used the Nod32 Antivirus on my computer in the past and was satisfied with it, I was curious to try the ESET Mobile Security app for my Android phone. From the get-go, I immediately recognized the user-friendly interface that I've known in the past.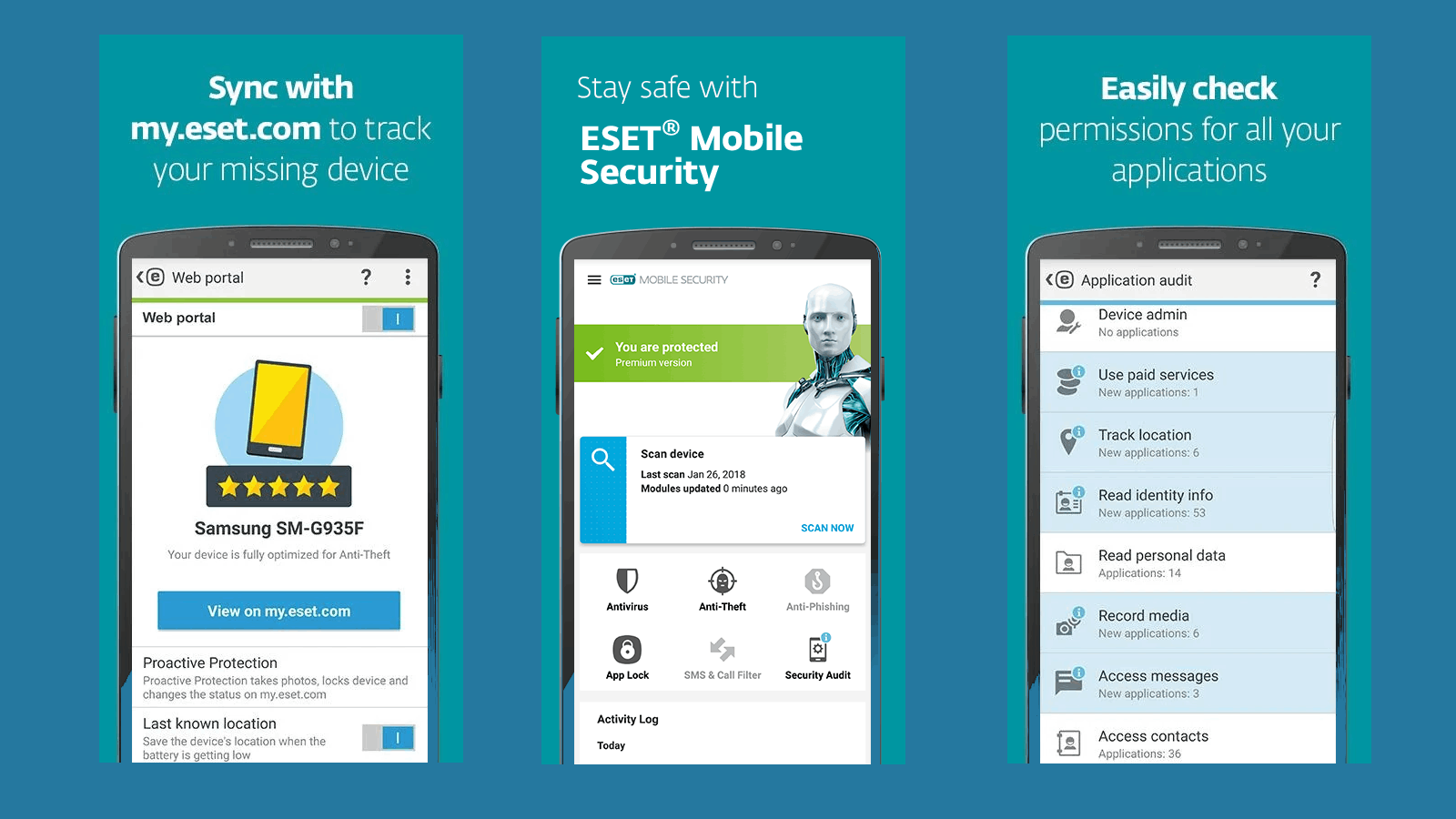 Features of the free ESET app include the basic antivirus, real-time scanning for threats, a security report following scans, an activity log, and a USB On-The-Go Scanner, which is useful if you use an OTG thumb drive to copy files to and from your device. Meanwhile features that only Premium subscribers may enjoy include anti-phishing, payment protection for e-payments, and call filter.
I downloaded the app from Google Play Store under the name ESET Mobile Security & Antivirus. Usually, paid subscriptions have 7-day or 14-day trials but ESET Mobile Security actually gives you the opportunity to try Premium for a whopping 30 days.
Avast Mobile Security
This app from Avast may probably take the cake for the most features included in a free antivirus app. And this may be the reason why Avast Mobile Security has more than 100 million downloads on the Google Play Store.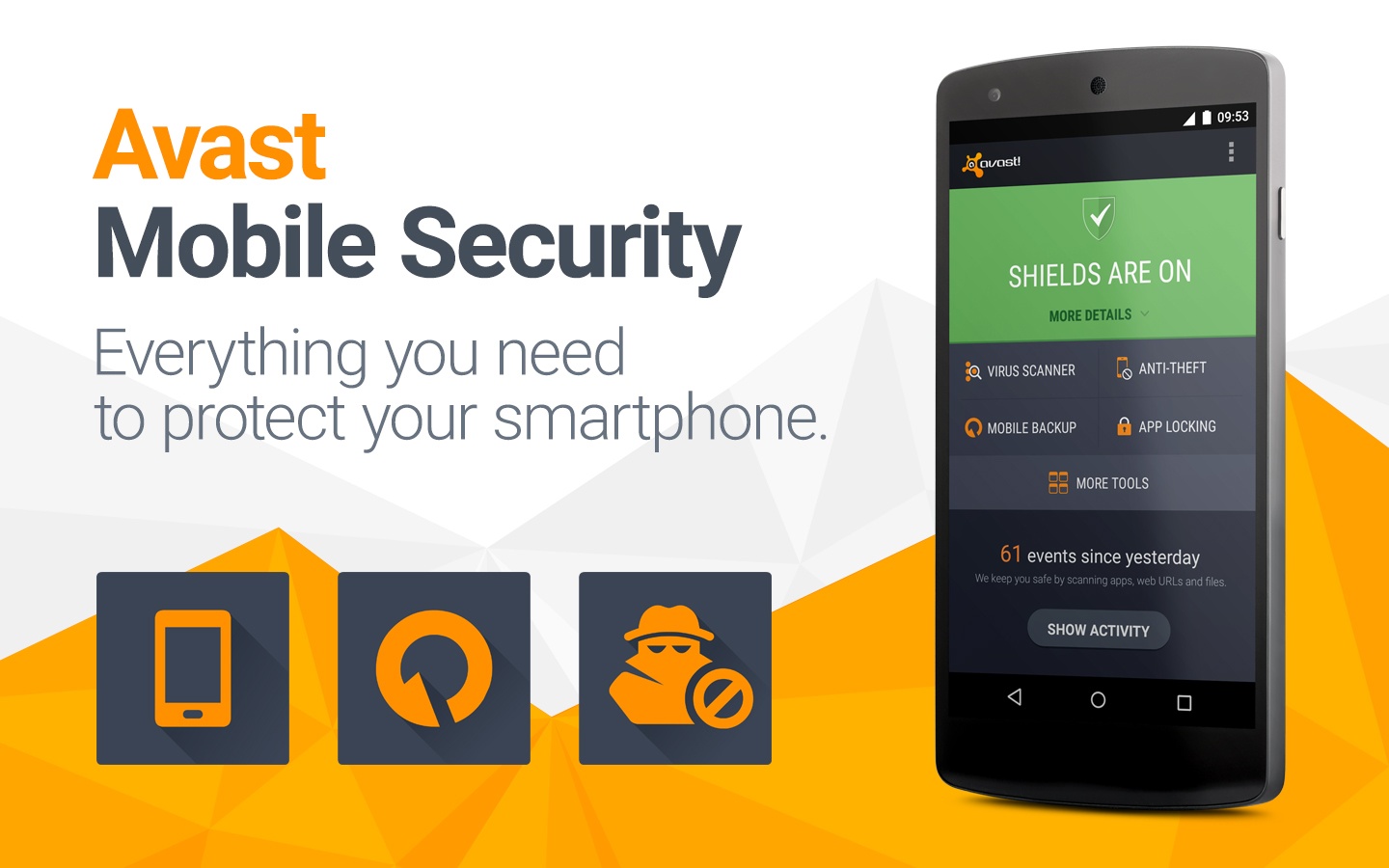 The Avast Mobile Security app's free version includes the antivirus engine, anti-theft features, file scanner, and Wi-Fi security, among others. Overall, this is a good option for protecting your phone and if you don't mind seeing ads, the multitude of features you can use is really impressive.
I found this great app on the Google Play Store under 'Avast Antivirus – Scan & Remove Virus, Cleaner' and it has a simpler iOS counterpart, 'Avast Security & Privacy', which you can download from the Apple App Store. Upgrading to Premium costs $24.99 a year.
AVG AntiVirus
Another familiar name to me when it comes to antivirus software is AVG so I tested its mobile app too. The free version of the AVG AntiVirus app protects my device from the latest viruses, malware, spyware, and unsafe apps.
It also has an anti-theft feature that will allow me to locate and track a lost or stolen phone or tablet as well as remote lock it and sound an alarm at full volume. First-time users of the app get to experience the PRO version of the app free for 14 days.
What I found unique in AVG is its Camera Trap feature, which secretly takes a photo of anyone who unsuccessfully tries to unlock your device and then sends it to you via email. Another great feature is the Device Lock, which locks your phone once the SIM card is replaced.
McAfee Mobile Security
McAfee is another cybersecurity household name and just like the other apps in this list, McAfee Mobile Security provides protection against viruses, malware, and ransomware. The app is free to download on the Apple App Store for iOS devices and the Google Play Store for Android users.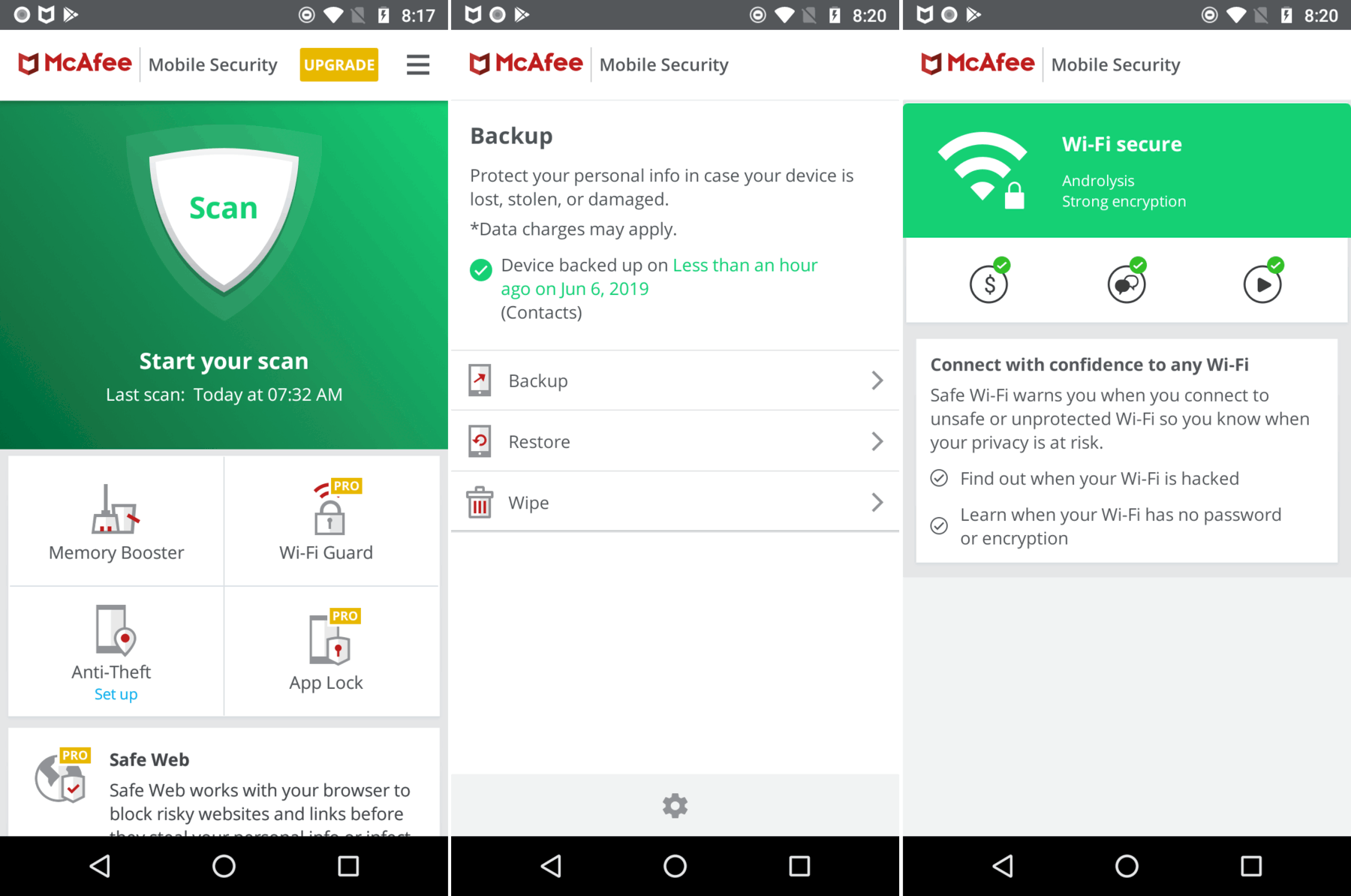 Features that I found remarkable with McAfee's Premium subscriptions were the Guest Mode that lets you create a guest account and choose which apps will be accessible, and the VPN Guard, which allows you to browse safely on unsecured public Wi-Fi networks.
It has three types of subscriptions: the Free version, the Premium Standard, and the Premium Plus. Free users will have b such as Anti-Theft, Memory Booster, Safe Wi-Fi, and Storage Cleaner. The Standard Subscription costs $29.99 yearly while the Yearly Plus Subscription costs $79.99 annually.
Mobile Security & Antivirus by Trend Micro
Another app that I think you should take a look at is Trend Micro's Mobile Security & Antivirus app.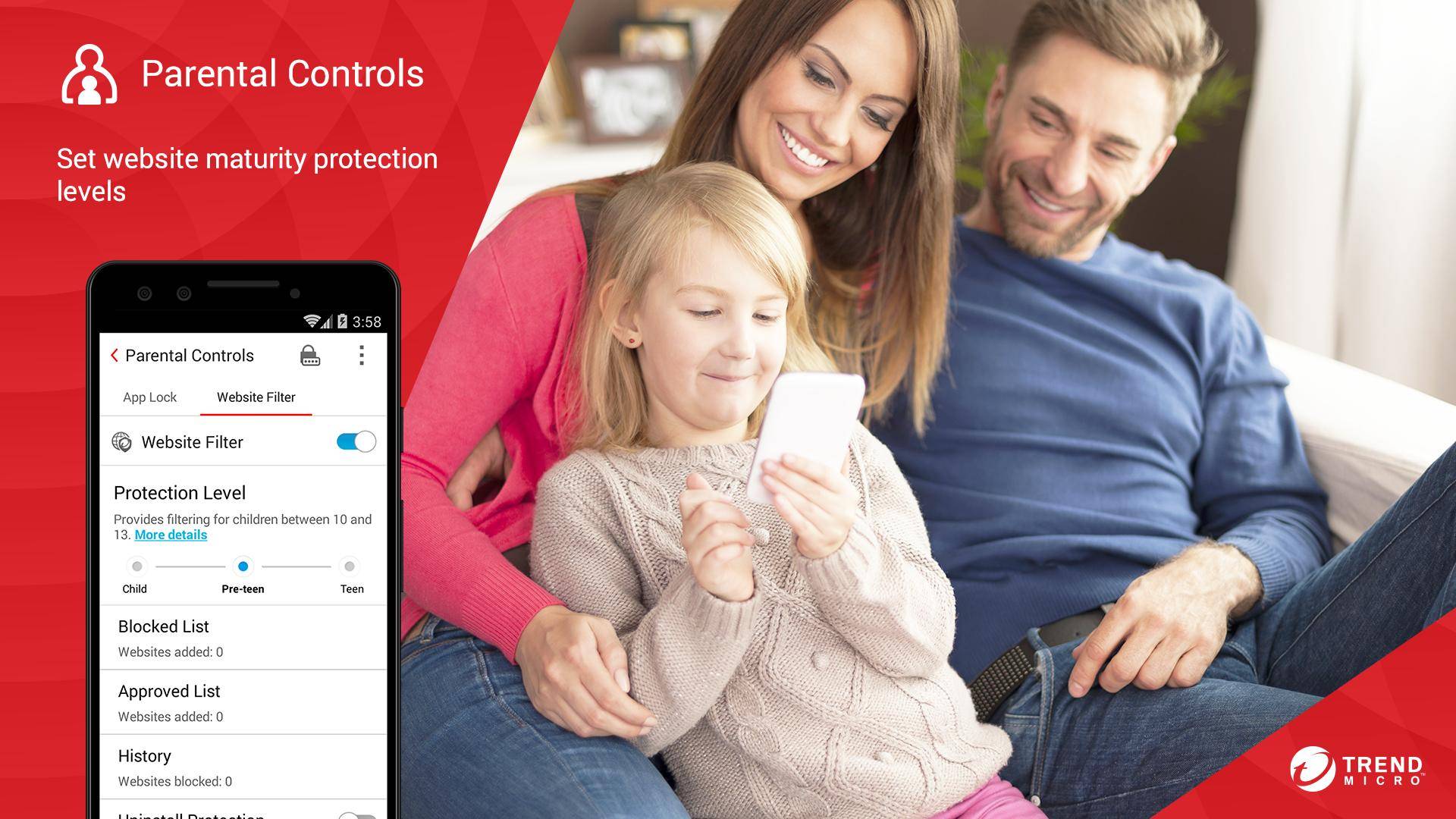 The Android version focuses on features like real-time antivirus detection, app lock and parental control, and fraud detection in text messages. Meanwhile, its iOS counterpart places emphasis on safe web browsing.
The app is free to download and use but some features will not be accessible once the free trial ends. The monthly subscription costs $4.99, the annual subscription costs $19.99, and a two-year license is offered at $31.99. Trend Micro Mobile Security is available for both Android and iOS devices.
Sophos Intercept X for Mobile
Security and mobility management firm Sophos launched the mobile version of its Intercept X endpoint security solution last year.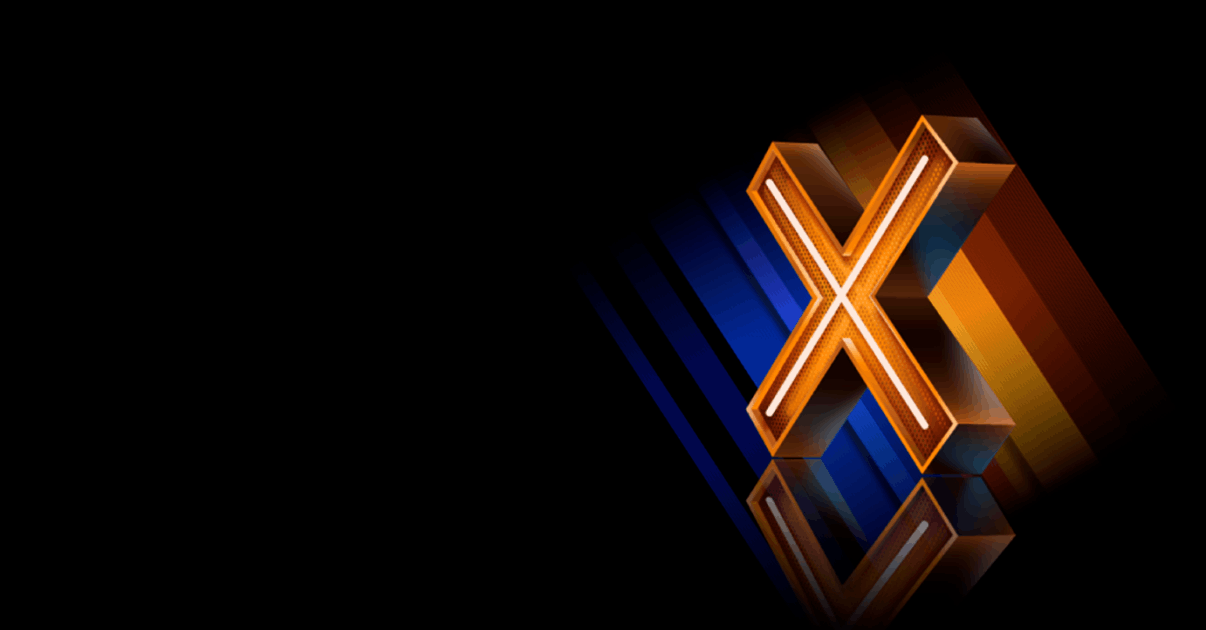 What stood out to me with the Sophos Intercept X is its Password Safe feature, which lets you store all your account data in a secure password database and its Authenticator feature that generates one-time passwords.
The app is entirely free and requires no subscription to enjoy all of its features. It is available both on the Google Play Store for Android devices and the Apple App Store for iOS users.
Norton 360
Last but definitely not least is the Norton 360 mobile app. Compared with previous entries, the Norton app is more comprehensive in terms of what it offers to the user and varied in terms of the subscription plans available.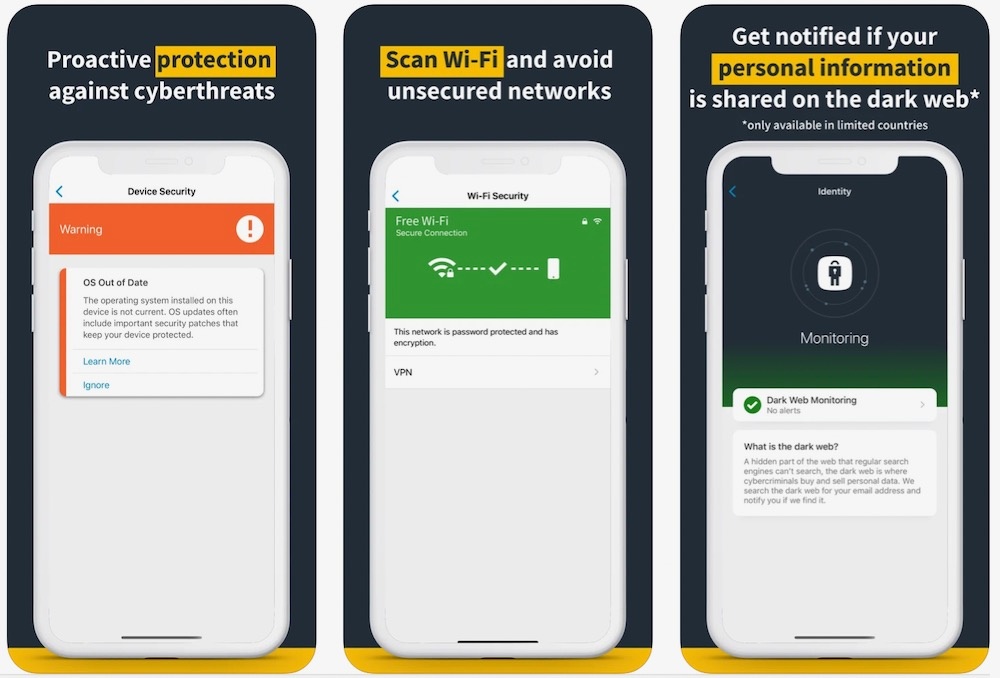 Not only does the app protect my device against viruses, ransomware, malware, and spyware, it also helps keep my personal info and online privacy secure. Norton 360 plans are Standard, Deluxe, with LifeLock Select, with LifeLock Advantage, and with LifeLock Ultimate Plus.
An interesting add-on offered with the Norton 360 is the LifeLock Identity Alert System, which sends an alert to you whenever important information about you, such as social security number, address, and date of birth, is being used in applications for credit or services.
Conclusion
No matter which app you ultimately decide to go with to protect your smartphone and other mobile devices, the important thing is to have one installed and turned on immediately.
With all the phishing, identity theft, and other internet fraud that's been happening around us, it's always a good thing to have a certain level of protection.