Back when I started playing viola, part of the lessons was always about how to keep the instrument in tune. During this time, I often used a tuner to tune my viola.
There are different kinds of tuners that work for violas. However, I am fond of using a mobile app called "Viola Tuner Basic" to tune my instrument. The app has an interesting use of LED visuals to guide me in tuning my instrument.
Viola Tuner Basic is highly sensitive to sound, making it easier to tune my viola. Learn more about the Viola Tuner Basic app and its features below.
Understanding the Different Kinds of Tuners
Phone App Tuner
Discovering the Viola Tuner Basic App
Reading Sound Frequency
Phone Microphone Condition Requirements
Utilizing the LED Tuning Indicator
The Premium Features of Viola Tuner Basic
Other Settings on the Viola Tuner Basic App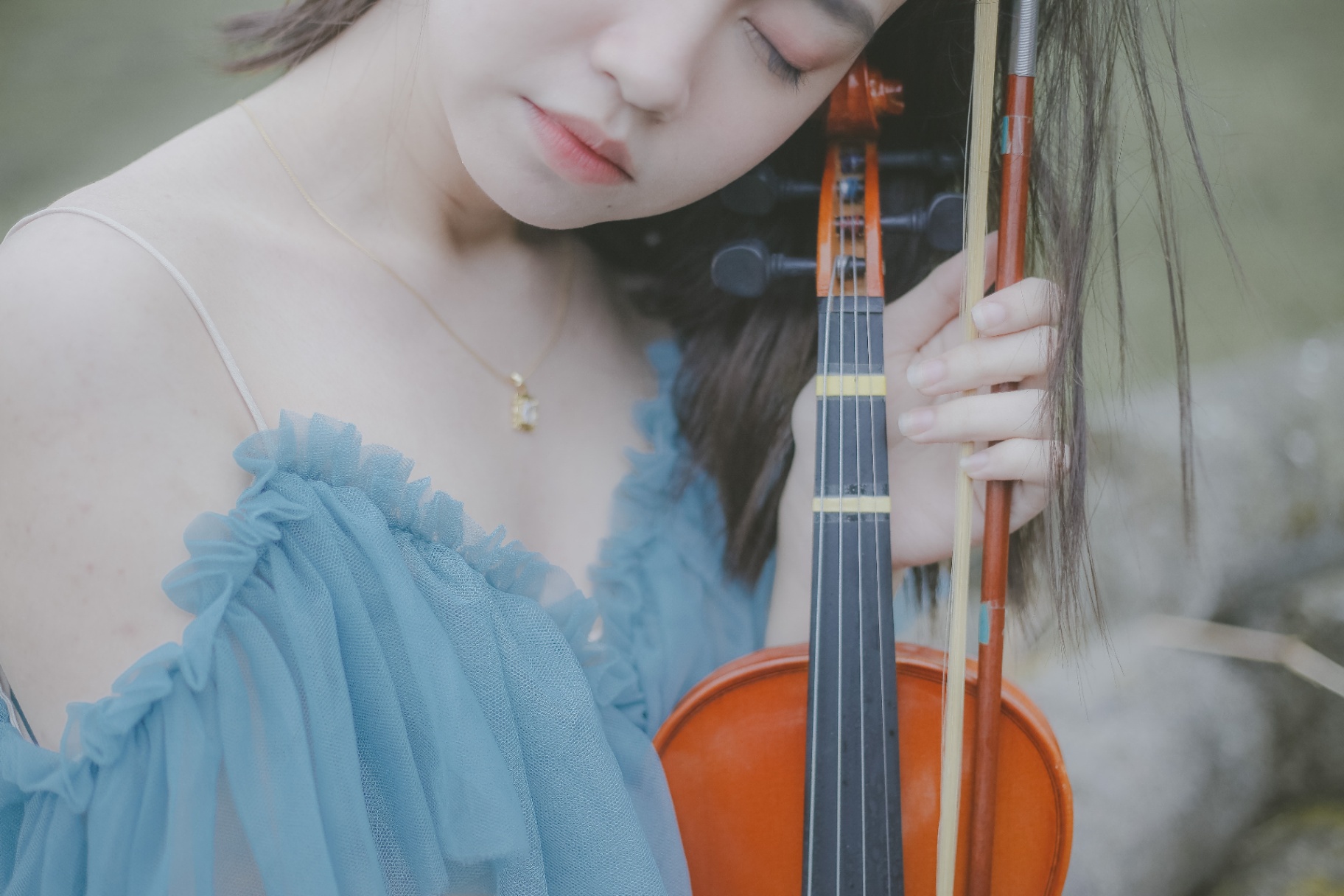 Understanding the Different Kinds of Tuners
In physical form, there is no specific viola tuner, but different tuners can be used to tune a viola. Some tuners work better for viola than other instruments. These tuners are digital, strobe, clip-on, drone, and phone app tuners.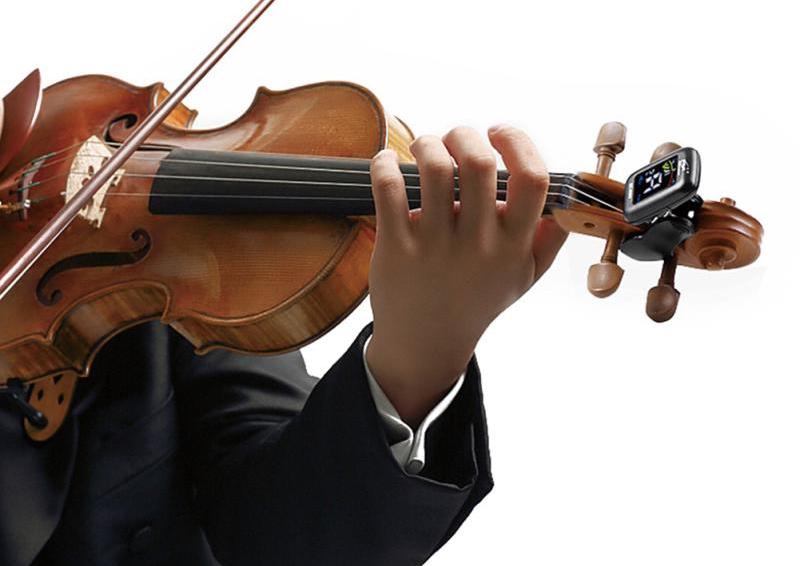 A digital tuner is the most common and simplest tuner as it gives basic information about the tuning process. It has a needle scale that indicates whether a note is flat or sharp.
A strobe tuner is more sensitive than a digital tuner. Strobe tuners usually have a setting that increases sensitivity towards different instruments. Some strobe tuners also have a metronome feature.
Clip-On and Drone Tuners
Another popular tuner is a clip-on, in which players directly clip the tuner to the instrument. A clip-on tuner does not work unless it is clipped directly to the instrument.
Lastly, a drone is usually used with metronomes wherein players match the reference tone to the instrument. It requires players with well-developed ears.
Phone App Tuner
Mobile phones evolve fast, and today these devices can do almost anything. In fact, smartphones can now be used for practicing and tuning instruments.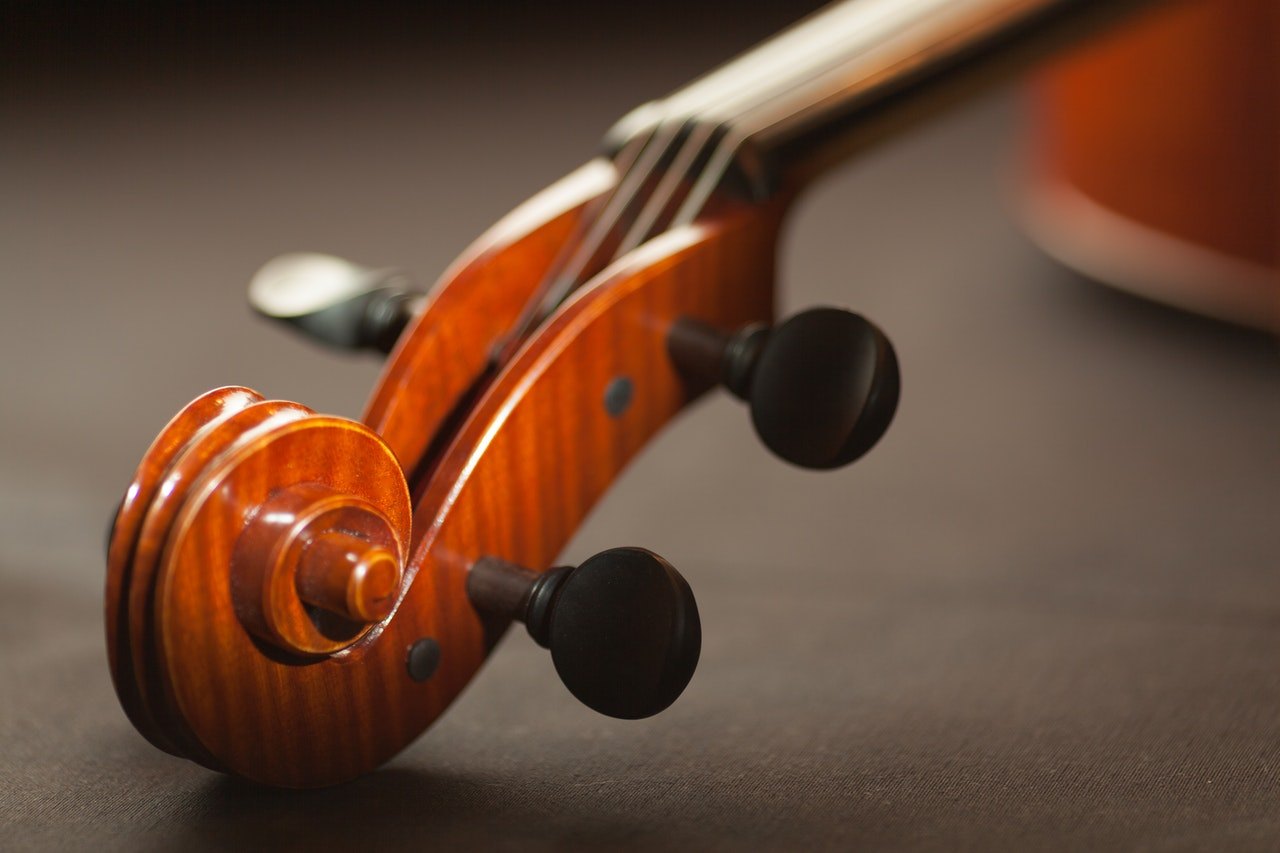 Mobile app developers design applications to transform mobile phones into handy instrument tuners. With this, musicians can tune their instruments from anywhere.
A Digital Tuner in a Phone
A phone app tuner can be likened to a digital tuner as it has all the basic information and features to tune the instrument properly.
In fact, some high-end tuner apps are better than digital tuners. These phone apps usually have metronomes.
Moreover, users can record through the apps, making it a great companion for practice as they are considered to be all-in-one tools.
Discovering the Viola Tuner Basic App
As someone who wants to bring only a few things to practice, I prefer a phone app tuner. It is indeed handy because I do not have to worry about forgetting to bring my tuner to practice. After all, I always have my phone with me.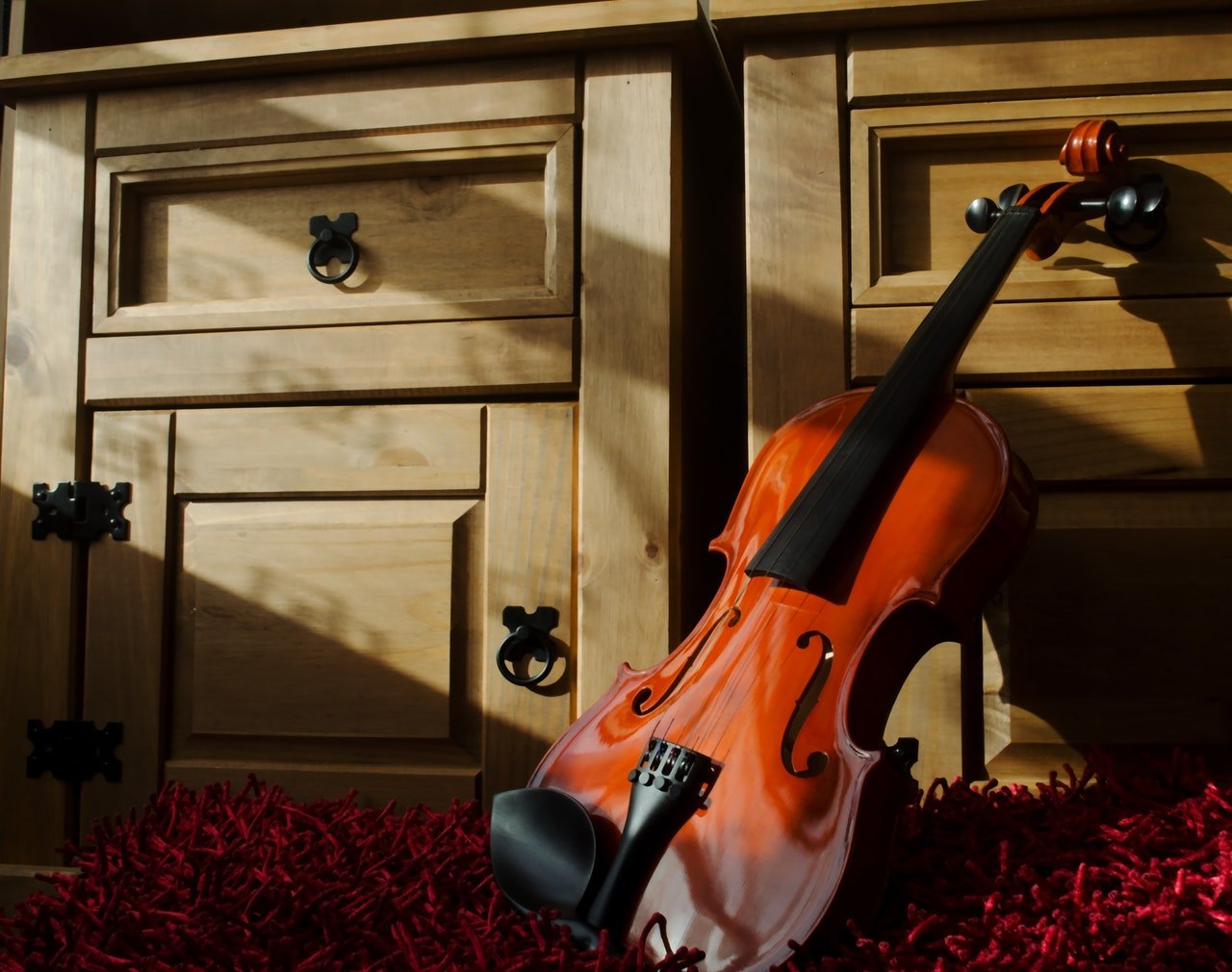 When I started using a phone app tuner, I tried several apps first to find which works best with my instrument. Then, I discovered Viola Tuner Basic in the App Store for free. The app is only available on iOS devices.
Pedro Daniel Macalupu Cumpen launched the Viola Tuner Basic app to help players, like me, tune violas anytime and anywhere. It is easily accessible because of its optimization feature, which works best for the latest devices.
The team created the app for iPads only but later expanded the design to work with iPhone devices. Eventually, it expanded to other iOS devices like iPod touches and even Mac computers.
Viola Tuner Basic's Compatibility
The Viola Tuner Basic app works only for specific operating systems of iOS devices. Its minimum requirement is that devices run on iOS 12.0 or later for iPhone, iPad, and iPod touch.
For Mac devices, MacOS 11.0 or later is required. Also, Viola Tuner Basic runs on Mac devices with an Apple M1 chip.
Even though the Viola Tuner Basic app mentioned its compatibility, I tried it on devices with older iOS versions. I could download the app successfully. However, the features do not load, and the app crashes most of the time.
Reading Sound Frequency
I tried several tuning apps on the market before settling with Viola Tuner Basic. One of the things that I liked about the app was the precision and accuracy in its display.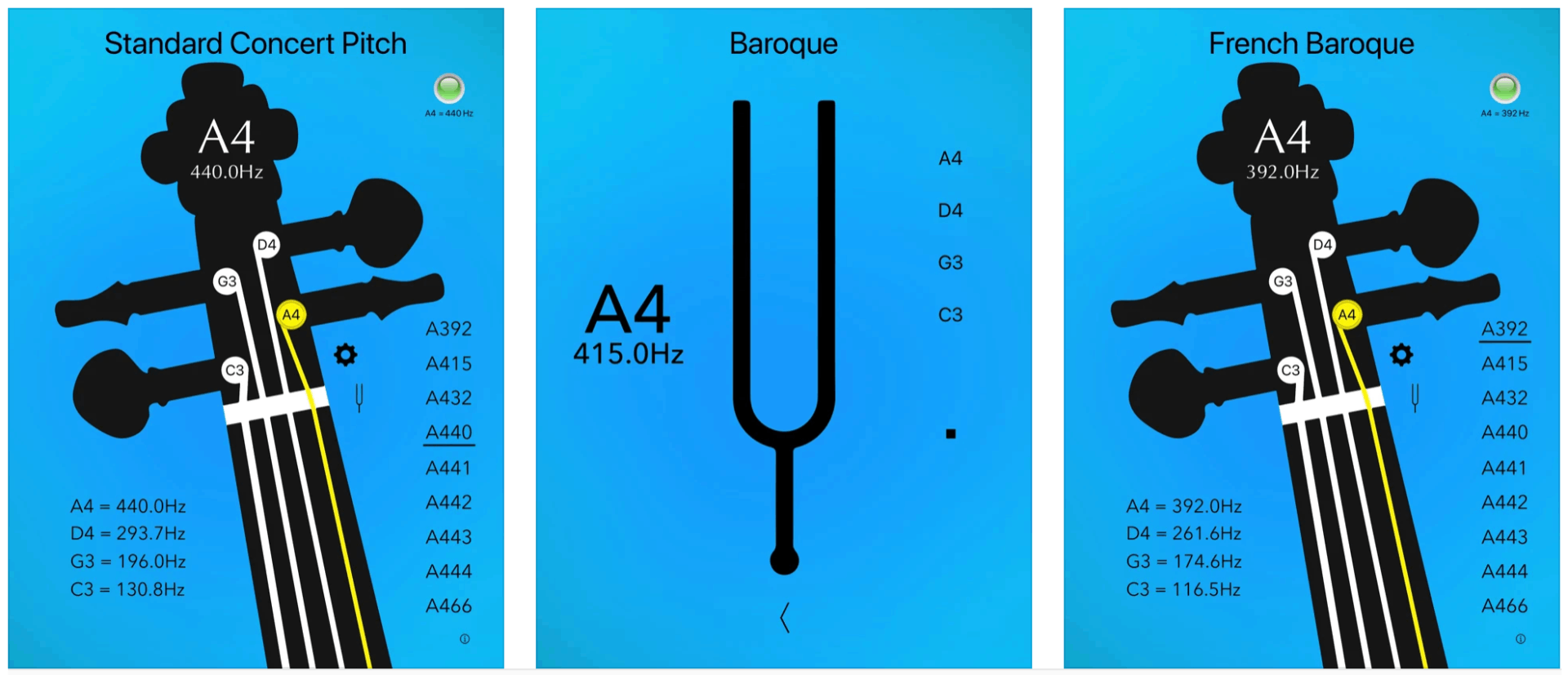 I get a real-time sound frequency rate through a chart when using the app. Viola Tuner Basic boasts an app that provides the most accurate sound frequency.
The app displays the frequency in terms of Hertz (Hz). Moreover, even beginners can easily understand the frequency rate with its simplistic display.
A Sensitive and Responsive Tuner
Another great thing about Viola Tuner Basic is that it is highly sensitive to sound.
Being able to show the sound frequency in real-time, the app indeed has a sensitive feature that reacts to sound. I liked how it can capture even the smallest sound produced by the instrument.
Aside from being sensitive, the app is also responsive to the sound it captures. It immediately identifies the chord or string that produces the sound, leading to a more accurate tuning process and sound frequency report.
Phone Microphone Condition Requirements
Since the app is highly sensitive to sound, it requires me to ensure that the microphone quality of my phone is at its best.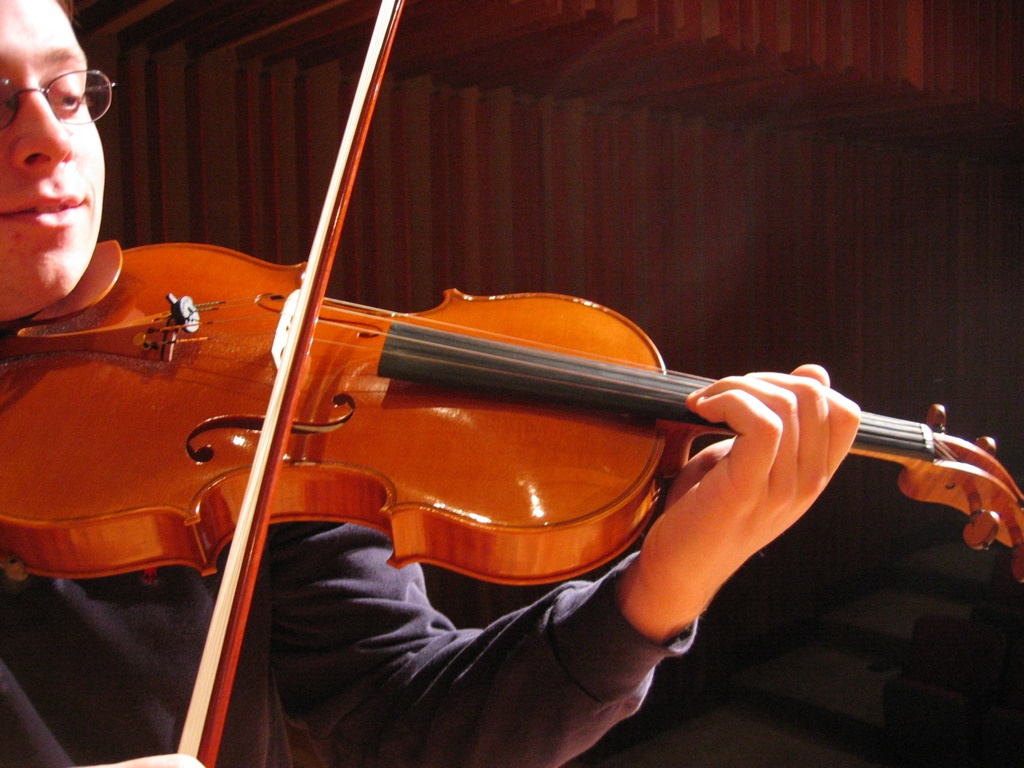 A problem with my phone's microphone can lead to tuning precision problems as the app cannot process the sound well.
Besides the condition of my microphone, the app works best at a certain distance with my instrument.
Some Distance and Quietness
Based on experience, it works well if it is not too close to the instrument when being tuned.
Putting your device some distance from the instrument will enable the app to capture how the sound resonates in the room.
Of course, it is a given to tune the instrument in a quiet environment as Viola Tuner Basic is highly sensitive to sound.
Utilizing the LED Tuning Indicator
I immediately fell for the visuals and graphics when I discovered the app. At first glance, its user interface is simple, organized, and shows a strong solid blue background. Viola Tuner Basic exceeded my expectation on its visuals.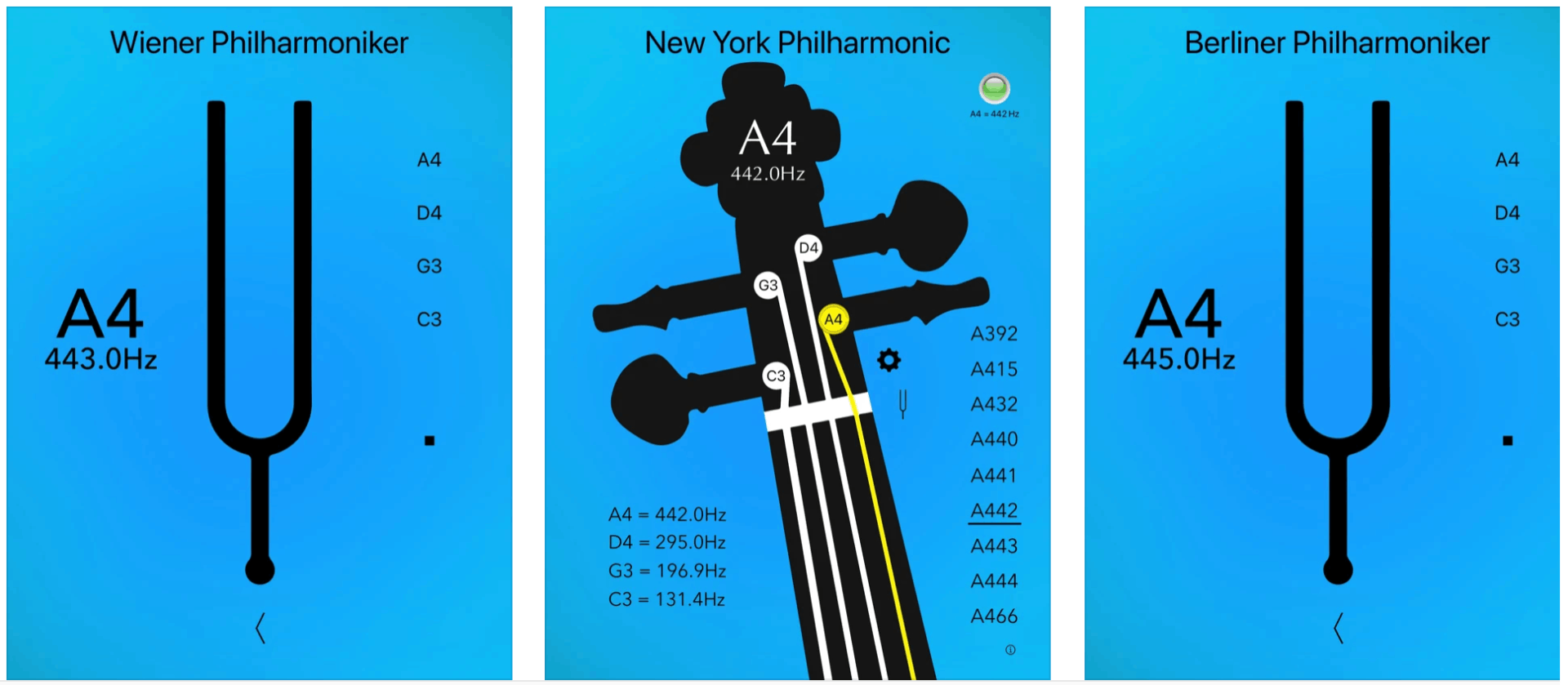 I was in awe when I started to strike a string, and the app provided an LED tuning indicator. This means that it highlights a specific string where the sound came from using an LED color. With this, I could easily track whether the app could process the sound properly.
Aside from this, the app also indicates whether the string needs to be tuned. Its LED tuning indicator shows me whether the string is sharp or flat, making it easier to adjust the tune.
I usually need to achieve "yellow," which indicates the string is in tune. When I manage to turn every string to the color yellow, it means that I was successful in tuning my viola.
Different Standard Pitches for Viola
Besides the tuning capabilities of the app, Viola Tuner Basic also provides information about the different standard pitches for Viola in various genres or ensembles. It usually shows the sound frequency for each string.
It helped me to tune my viola in accordance with the occasion. I learned about the Standard Concert Pitch, Baroque, French Baroque, New York Philharmonic, Wiener Philharmoniker, Berlin Philharmoniker, Boston Symphony Orchestra, and Sydney Symphony Orchestra.
For example, the Standard Concert Pitch requirement is to have A4 with 440.0Hz, D4 with 293.7Hz, G3 with 196.0Hz, and C3 with 130.8Hz.
The Premium Features of Viola Tuner Basic
As mentioned, the Viola Tuner Basic app is free to download, following the freemium model. However, there are in-app purchases that will unlock the app's premium features for a better tuning experience.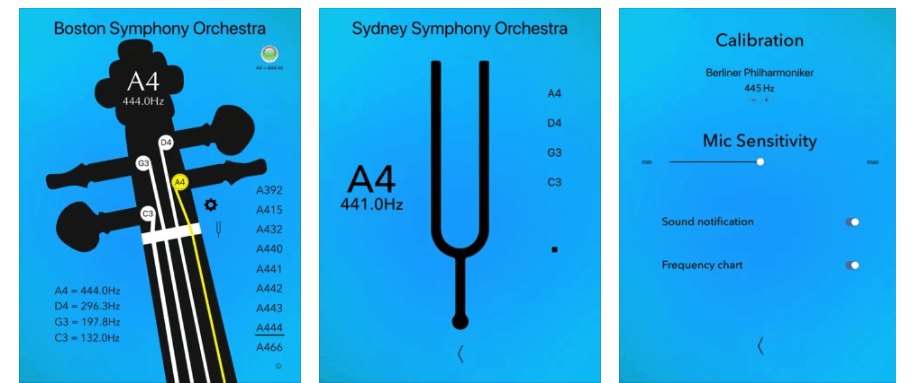 Premium features on the app are bought per item, but they only require a one-time purchase to enjoy them unlimitedly. The first one is to remove intrusive ads on the app, which costs $0.99. I needed it as the ads break the momentum and interrupt me when I'm tuning my viola.
The second in-app purchase is highly important because I could not tune on the app without the "Tuning Fork" feature. It costs $1.99 and unlocks the visual LED tuning indicator.
A4 Calibrations
In addition to the Tuning Fork feature, the app provided extra A4 calibrations 392Hz to 466Hz for better tuning of the viola.
The app recognizes that the A4 string is highly important to keep the viola tuned. I paid another $1.99 to avail of these A4 temperaments on the app.
Other Settings on the Viola Tuner Basic App
Some other settings of the Viola Tuner Basic app can be accessed for $1.99. They include the calibration option with which I can adjust the mic sensitivity of the app.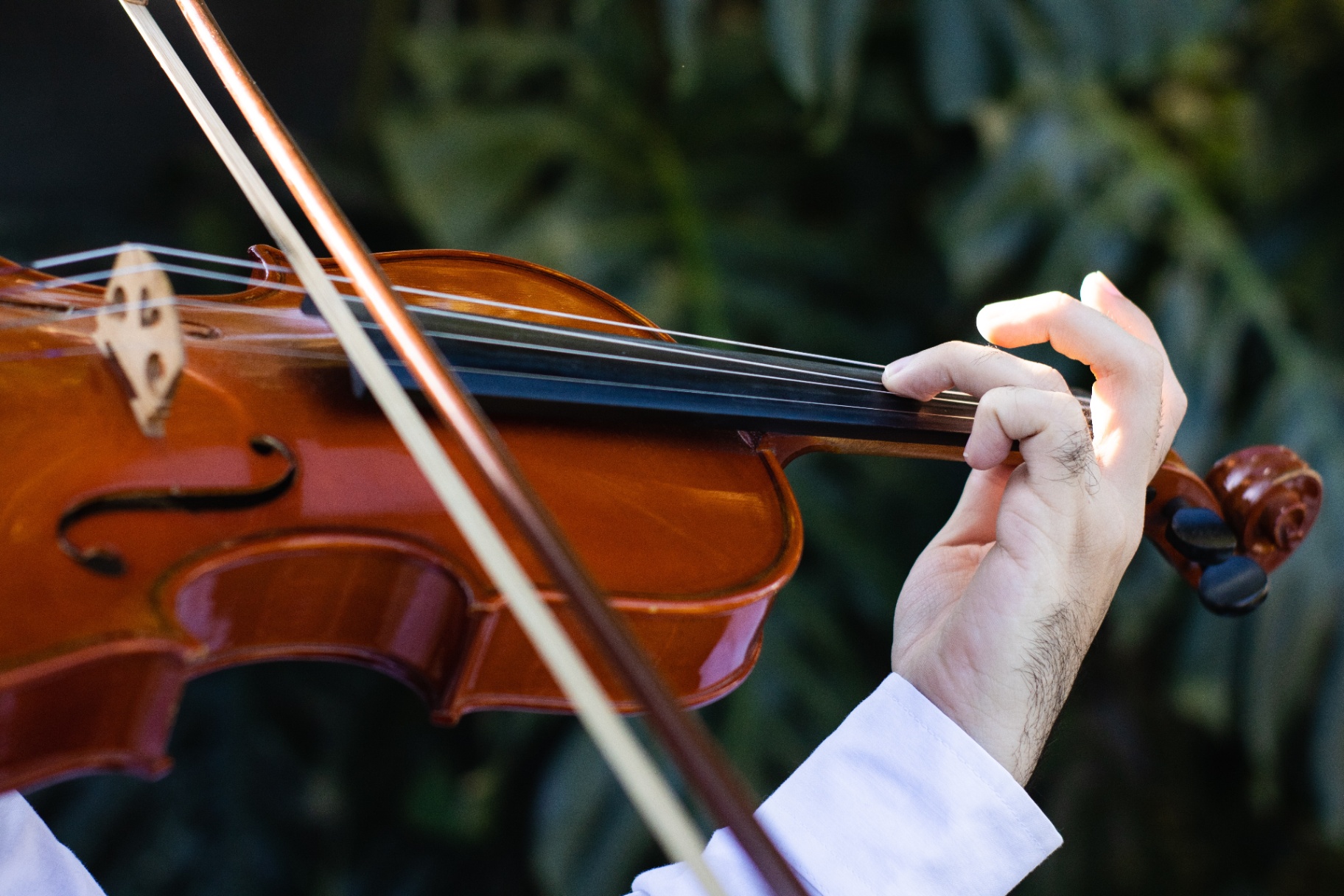 This helps the app process the sound more precisely, especially when doing different standard pitches for the viola. Viola Tuner Basic also offers basic settings which cover sound notifications.
I find this helpful alongside the LED tuning indicator, as it rings a bell when I achieve the "yellow" color for a string. I also can turn the frequency chart for the sound on or off.
Language Support
Lastly, the Viola Tuner Basic app supports several languages for more accessibility.
Some languages the app features are English, Arabic, Chinese, Danish, Dutch, Finnish, French, German, Greek, Indonesia, Italian, Japanese, Korean, Portuguese, Russian, Slovak, Spanish, and Thai.
Conclusion
A smartphone can be a great instrument-tuning tool for viola. The Viola Tuner Basic app focuses on helping viola players to tune their instruments with its high sound sensitivity and responsiveness.
The tuning feature of Viola Tuner Basic includes an LED tuning indicator that guides the users as to whether they achieved the perfect tune for each string. In addition, the app provides a list of different standard pitches for viola. Download this great app for music lovers today!